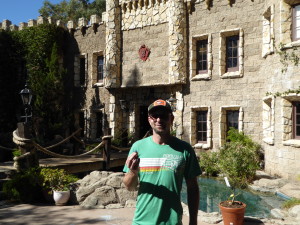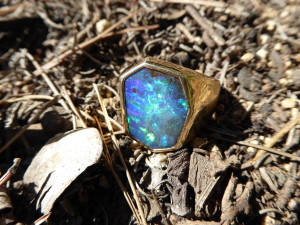 I received a call from Adam yesterday about a ring that was lost at his house about a month and a half ago during a corporate party. Apparently one of the guests was taking a swing at a pinata when his ring flew off of his extended forefinger. I knew that the ring, if lost in the yard wasn't going anywhere, so we planned on me coming to search the area today. It was then he sent me a text picture of the area they thought the loss occurred, which gave me pause. The house was situated on the hillside with a ravine that went down probably four hundred feet of steepness. I knew then it would be a tough search.
When I got to the house, which was pretty awesome, it was a big castle with a swimming pool moat and all, I met with Adam. He wasn't able to describe the ring, but told me it was a big one. He explained what had happened, and where they believed the ring went flying. Hoping though that it had landed in the yard and not on the hillside, I decided to search the area in the yard first, to no avail. I then went out to the hillside and began working in the bushes nearest the fence, and worked my way down. The footing was very tenuous, so the going was slow. I was surprised at how much metal was in that hillside, and much of it sounding like what I was looking for, so digging all of that slowed me considerably more, and my legs were aching, but I kept going, sometimes with my feet sliding out from under me. I was going down to a shelf about a third the way down and finish there, because the hill steepened below the shelf and looked unsafe for me to go further. I finally got down to the shelf, and began my slow assent back to the house further to the side I had not detected on the way down, detecting as I went. I got about halfway back when I saw this beautiful glimmer of gold in the mid day sun. The ring was sitting right on top of the ground waiting to be picked up. I reached down and picked up this awesome men's opal ring, and knew I had found what I was looking for. Adam was very happy that he would be able to get the ring back to its owner, as was I., Had a great day, a wonderful search and recovery, and there will be smiles that I won't see, but know they will be great.
If you lose your ring or other metal item of value, don't buy a metal detector or rent a metal detector, but call one of the members of this directory. Look at the different metal detecting Ring Finder blogs and read their success stories, then call them ASAP, and they will work hard for you to find what you thought might never be found again.
I search, Cabrillo Beach, Hermosa Beach, Huntington Beach, Long Beach, Malibu, Manhattan Beach, Newport Beach, Redondo Beach, Santa Monica, Seal Beach, Torrance Beach, Venice Beach, and all parks, yards, gardens, and ponds (to 5 foot depths) in Orange County and Los Angeles County.
One Response to "Men's Opal Ring Lost in the Hills of Los Angeles, CA…Found."