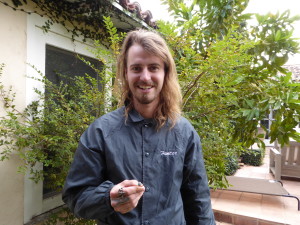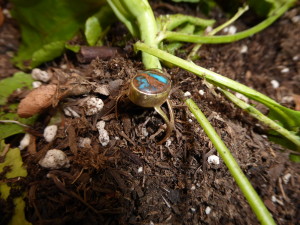 Hunter called me on New Years Eve about a lost ring that was lost in a backyard, so after we discussed the situation, we decided to postpone the search until 2 days later on Saturday morning.
When I got to the house Hunter told me how his boss was setting her garden's planters with new potting soil, and realized the ring was missing. About 2 to 3 weeks had transpired since the loss until they found me. The nice thing about that as opposed to a beach search, is that the ring was going no where, so I knew if it was there it would be found. Hunter showed me the areas where the ring was possibly lost, one was a box about 4 feet square about 2 1/2 feet deep and surround by re-bar. That was a bit discouraging because I knew my detector would be picking up the re-bar as I got near the edges. The other planters were much quieter, and I received no signal from them, so I focused on the square box. After I removed some spikes that were holding down the sprinkler system, I was still getting readings all over the planter, even in the middle which I didn't understand. I realized I would not be able to use my detector at all in this planter, so I switched to my pin pointer to continue my search. I began to see why I was getting so many hits in this planter, as it was littered with bits of rusting metal (screws and scrap). Fortunately the potting soil was loose which allowed me to probe deep in the planter with the pin pointer. After about 10 minutes I got a good solid hit, and began to dig. Out came this pretty little ring with a great looking turquoise stone in it.
Well I called Hunter, and showed him my find. He was pretty excited about the recovery, unfortunately his boss wasn't there to see the ring at that moment, but I am sure she had a nice smile, because it was given to her by a friend. More happy smiles for a new year's beginning.
If you lose your ring or other metal item of value, don't buy a metal detector or rent a metal detector, but call one of the members of this directory. Look at the different metal detecting Ring Finder blogs and read their success stories, then call them ASAP, and they will work hard for you to find what you thought might never be found again.
I search, Cabrillo Beach, Hermosa Beach, Huntington Beach, Long Beach, Malibu, Manhattan Beach, Newport Beach, Redondo Beach, Santa Monica, Seal Beach, Torrance Beach, Venice Beach, and all parks, yards, gardens, and ponds (to 5 foot depths) in Orange County and Los Angeles County.