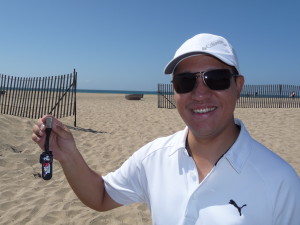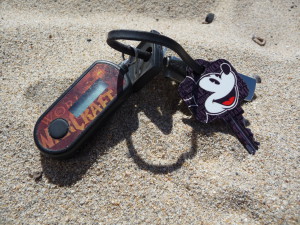 I received a text from Gary today asking if I would be available to help him find his keys that were lost the night before at the beach. He had been out with friends enjoying the temperate weather, having a fire on the beach, and roasting S'mores when he noticed his keys were no longer in his pocket. These were keys that had a specific purpose, and would be hard to replace. Also there was a flash-drive attached that had personal information which he wanted to keep. I told Gary I would be able to meet him at the beach in a couple of hours, and he sent me the location. We met, and he showed me the area. I began my search, and realized the area was infested with foil, pull tabs, bottle caps, and a lot of iron in the form of screws, nails and bolts, with a few coins as well. The search was slow because of digging a lot of unwanted items, but in order to make sure I did not pass over the keys, I dug every hot hit. About 1 1/2 hours later I dug a quarter, and once I put it away, I passed my coil over the area again, and had another good hit. I put my scoop in, and found Gary's key chain. Needless to say that he was thoroughly happy about having them back. Glad to have made his day! Gary was referred to my by Stan Ross (fellow Ring Finder).
If you lose your ring or other metal item of value, don't buy a metal detector or rent a metal detector, but call one of the members of this directory. Look at the different metal detecting Ring Finder blogs and read their success stories, then call them ASAP, and they will work hard for you to find what you thought might never be found again.
I search, Cabrillo Beach, Hermosa Beach, Huntington Beach, Long Beach, Malibu, Manhattan Beach, Newport Beach, Redondo Beach, Santa Monica, Seal Beach, Torrance Beach, Venice Beach, and all parks, yards, gardens, and ponds (to 5 foot depths) in Orange County and Los Angeles County.
4 Responses to "Keys Lost at Bolsa Chica State Beach, CA…Found."