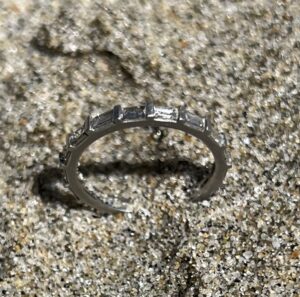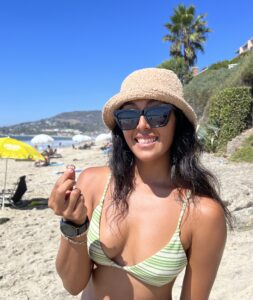 Laguna Beach Ring Finder Stan available to help you now !! .. Call or Text  949-500- 2136
*** Carol had been at a well known Laguna Beach surfing beach with a whole group of friends. She put her ring in a hat that was on her towel. After returning from a swim in the ocean, the hat got picked up and he ring went directly into the sand. 
More than 8 or 10 people tried to be the hero by finding the ring. Even thought the ring was dropped in a 4'x4' area, it couldn't be found. Finally one of the friends in the group found my contact information on TheRingFinders directory of metal detector volunteers. 
I was less than 10 miles from the location. Asking Carol if she could stay at the location as it could make the recovery much quicker, she agreed to wait.
Parking could be time consuming but I was lucky to catch a great parking spot. I love it when traffic and parking go well. Walking down the steps to the beach, Carol was waiting patiently. I didn't waste time asking too many questions, just turned on the metal detector as she pointed to the spot. The same spot where everyone tried to find her ring by dragging their fingers through the sand. 
BINGO !! Two swings of my machine and we had her ring in my sand scoop. She was very surprised and happy to have her special white gold ring back on her finger.
I WILL TRY ANYWHERE and I will answer your text or call to help you with any questions you may have about how this service works.  Call or Text Stan the Metal Detector Man … 949-500-2136