Fisherman's Blues to Fisherman's Rock and Roll!
Got a call a week ago that a newly married guy was out fishing with some buds on Lake Erie and as they were bringing the boat back to shore in his ring slipped off. Wife of course was livid! Lake Erie can get quite rough at times and that's what he was saying it was when he rented an ace 150 with no luck and those are good units but not waterproof. He doubted it could be found because it was out there for 2 weeks. He said it was roughly waist high water and I laughed cos when I met him out there he was quite tall so like his waist was at my chest almost my neck lol (everyone's taller than me!) So being a private beach and no one else knew about the loss I figured we had a better chance of finding the ring.
We started at sunrise Wednesday morning and as we were walking to the beach the foliage was quite attractive and reminded me of being on an island. As the canopy opened up and as we were getting into the water he was good at remembering the area. I got a linear hit which produced a 6 foot copper pipe. Continuing my grid search and running 0 disc I got a soft signal. The water clarity was near opaque and I usually go barefoot during water searches as I can feel what the item is when I get a hit. The sand was compact so I knew if it was in this area it was just under the surface of the sand bottom. So I felt with my foot as I moved it around on the bottom that the object was round so I thought well its probably a bottle cap but those are usually louder. So I dig it all out in the water so it didn't matter anyway. Placing my foot at back of coil and scooping forward with my 5′ handle scoop I got nothing, so I swept the coil again and redid scoop procedure and up came this gorgeous white gold band at chest high water depth.
Jon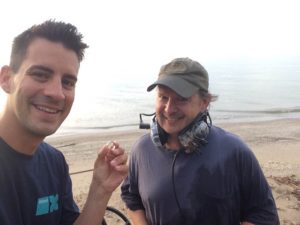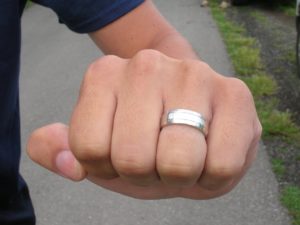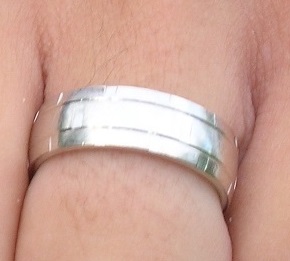 Our ring finder client saw it first in the scoop as the water washed away and he went wild and I said is this the ring?! YES he exclaimed as we high fived!
SO not a bad hunt total search time 20min!
Pictured L to R is Ring Finder Client and Ring Finder Jonathan Hamill
Thank you for reading!
Jon