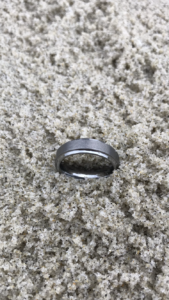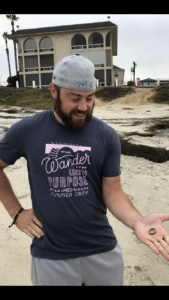 TheRingFinders Metal Detector Service helped find a Lost wedding Band at Windansea beach in La Jolla. OPEN NOW
CALL ; Curtis Cox at 760 889 2751
On 4th of July,2018 I noticed an email about a lost wedding ring at Windansea beach below the La Jolla cliff during the arising tide. I emailed the wife back that I'm willing to help search for it but will have to wait until low tide early the following morning.
I sent her my cell number so we could communicate quicker plus was able to set up a time to meet Chris who is the husband/Owner of the buried wedding band in the wet sand.
At 6:30am I showed up to the Scene of the Lost Ring nearly 30 min early cause I expected lots of traffic but must mention that the other enthusiasts Detector Guys are at many beaches searching for what they claim as "Treasures" this time of year on 4th of July.
Fortunately when I met Chris there was no sign of beach combers and the spot he showed me where the ring dropped out of a pocket was Virgin grounds with zero drag marks or holes.
Chris did also have an accurate/descriptive area where the ring could be buried so I started in a standard grid pattern search dragging my sand scoop up & down the zone when I heard a deep target nearly 7-10" down then WARNED him this could be just a bottle cap or such trash?? Though,,also could be your ring?? After I got it out of the 3rd scoop on to the towel line I heard a hole in the center of it indicating a ring on my machine while knowingly,,I shook the scoop out uncovering Chris's Lost wedding ring as he watched! ((Boom)). Chris was electrifyied and I was extatic. I am still amazed after 5 years of returning such precious metals that this gets me excited as much as anyone else,Like as if it's my first ring return .😇 Much to yearn for there is!
I have many types of special metal detectors for each scenario with over a decade in use but these searches do rely vastly on the timing of the Calls/Tides/Surf conditions/Beach sifting machines/Local beach combers..etc.
However good karma and Knowledge is of my TOP  best equipments for recovering your lost sentimental Item.There is a great chance I can reunite you with your Wedding Ring. Timing is of the essence.
Tags; Camp Pendleton,Oceanside,Carlsbad,La costa,Encinitas,Cardiff beach,Solana Beach,Del Mar,Torrey Pines,La Jolla,Mission beach,San diego