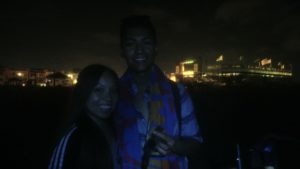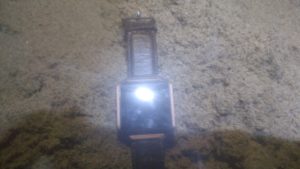 I happened to go to local beach last night to do a little metal detecting to keep my skills sharp. I was working down the beach when I saw a group of about 8 people down a way, scurrying around the sand with their phones out and lights on. It looked like a desperate search, so I made my way over to them, and asked if I could help. I explained that I was with The Ring Finders, and we help people find things that they lost. They explained the watch had been on a towel, and then they were chased back by the incoming tide, and believed that is when they lost the watch.
I began my search where they thought they had lost the watch, and found a lot of bottle caps and a few coins. I kept up the grid with similar results. Then the young lady who originally pointed out where to start, realized that we needed to move North of our position after she noticed the trash cans they were in front of earlier. I continued my grid in the new area, working my way closer to the water, again finding more bottle caps and a few more coins. I got to where the water had come up over the edge when I got another good signal. This time it was the watch. Well there was a great hug given, and a lot of excitement. It was now about 10:00 PM, and I did not know how long they had been searching before I arrived, but they were very happy now. A great night out indeed!
If you lose your ring or other metal item of value, call as soon as possible. I will work hard, using the most up to date metal detectors, to help you find what you thought might never be found again. I search,  Beverly Hills, Hermosa Beach, Huntington Beach, Long Beach, Los Angeles, Malibu, Manhattan Beach, Newport Beach, Northridge, Pasadena, Rancho Palos Verdes, Redondo Beach, Santa Monica, Seal Beach, Simi Valley, Thousand Oaks, Torrance, Venice Beach, and all parks, yards, gardens, and ponds (to 5 foot depths) in all of Orange County, all of Los Angeles County, and Ventura County.