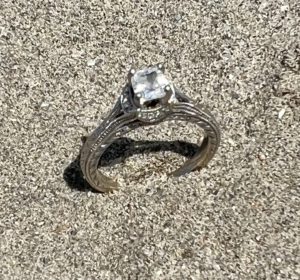 Metal Detector Service helped find a irreplaceable diamond engagement ring  .. If you need a experienced metal detector person call Stan The Metal Detector Man "ASAP" … member of TheRingFinders.. 949-500-213
** I just got out of the water where I had been practicing dive recovery techniques. When I checked my phone I could see a text asking for help finding a lost ring at Califia State Beach, San Clemente, CA.
I called Caroline right away and they were still at the location. She said her white gold diamond ring was lost in dry sand. I told them I could be there in less than an hour. They said, they could stay to show me the area. It would also be better because the beach was crowded now and many seemed to be leaving.
When I arrived, I scanned the whole area around their pop-up tent with no sign of her most prized engagement ring. We had one more place that i couldn't get to on the dry sand. Another group of beach goers were still on that spot. 
While waiting for the other space to be available to search, I asked Caroline if she went into the ocean. She said only walked into the surf for a few minutes but she was sure the ring wasn't lost in the water. 
I took a few minutes to grid search ankle deep incoming tide. While doing that I checked the tide schedule on my iPhone app. When I tried to put my phone in my pocket I missed the pocket and my phone was lost in the surf.
Frantically scanning the surf for my phone, BOOM! Caroline's beautiful white gold diamond engagement ring found.. My phone was never recovered, crazy what the ocean can do. The flat phone must have just got pulled way down into the deep water.  
Caroline and Bob were very grateful and couldn't believe how her ring was lost in the area she had only visited for 5 minutes.  I was happy for them and I immediately left to get a replacement for my phone as was Sunday and the phone company closes early. I need a phone to be available for the next recovery call.
"I WILL TRY ANYWHERE "  Don't wait call now!  Stan ..  949-500-2136