Rob Ellis: Underwater Ring Recovery Specialist. Call or text 703-598-1435
November 19th, 2019
John, who recently returned from an overseas deployment, had lost a lot of weight. He was fishing on his farm pond with a young friend. While helping his friend remove a fish from his line, John's Virginia Tech ring slipped off. As you can see from the photo, this is a treasured reminder of his beloved alma mater and he rarely took it off his finger. John had the foresight to immediately take note of where he was when the ring fell off.
Due to other obligations, it took a several weeks before Mrs. E and I could make the trip to Tappahannock. After a two hour drive we met John and his friend Billy. We immediately bonded with these awesome patriotic Virginians.
John decided to drain half the water out of the pond. He and his friends developed an ingenious method and spent many hours nursing the home-made pump. The depth was about 15 feet lower when we arrived. John and Billy placed a ladder so I could get safely get in and out of the water. John also launched his boat to give me a platform from which to work. I'm so grateful for his ingenuity and thoughtfulness.
The pond had steep sides, zero visibility, and is over 25 feet deep. John and Billy helped me get my SCUBA gear into the boat and I snorkeled over to the opposite bank. As you can see from the photos, there were tangled branches interfering with the potential search site. I explored the area around, under, and through the tangle as best I could using my Excalibur detector.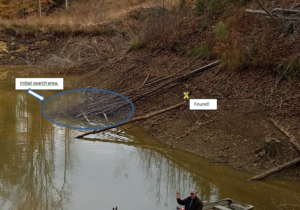 To search in the water under the tangle I realized we would have to remove the branches. I decided to search the bank before undertaking the difficult task of removing the branches. It was a slippery, but there was little trash and the search went quickly. It felt wonderful to hear that beautiful tone when I located the ring and dug it up from the mud.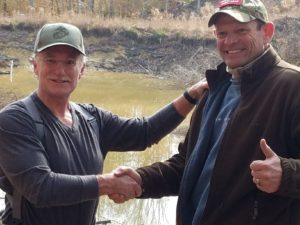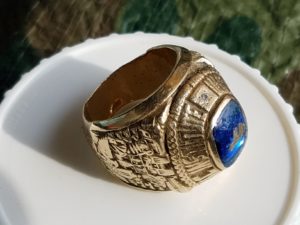 John's help in draining the pond and putting me so close to the drop was extremely helpful. His generous reward was much appreciated and I donated a portion to Fisher House.
For help to recover your item, please text or call 703-598-1435