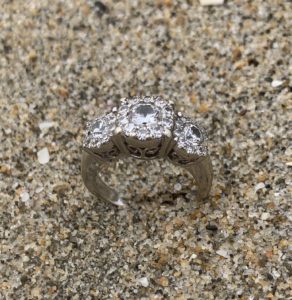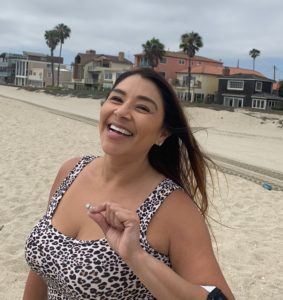 Metal detecting service available to help you find your lost ring or other precious metallic jewelry.. 949-500-2136
***A diamond engagement ring was pulled off Susanna's finger when she was hit by a large wave in waist deep surf. The same wave also washed high up the sloping beach to pull her beach bag with car keys and a cellphone into the surf.
Susanna called me after locating my information on line. We discussed the time of day of the loss so I could determine the height of the tide when the ring came off her finger. Very important was the fact that she immediately knew when and where the ring left her finger.
All Southern California beaches are different and the sand conditions change daily. Sometimes I can tell that our odds are better to find a ring that has been lost in surf when they tell me what beach. Most times you can't tell if it's going to a difficult search until you get to the site. I try to tell these facts to people that need my help before going on a call out.
Susanna met me the next afternoon at low tide. She was confident as to the area of the beach where she had been. I was prepared to search chest deep water if I had to. The sand and slope conditions looked perfect for a successful search and it was only one day since the loss.
Started the grid in knee deep water finding a few coins then a silver colored ring with a diamond stone. It was not her ring but conditions made me feel that Susanna's ring could still be holding in this type surf/sand conditions. After a half hour working parallel to the beach I was able to find Susanna's white gold diamond engagement ring that had three sparkling diamonds. It was at the very end of the area she laid out for me to search. The keys and cellphone were not found they were not the object of this search.
I went up onto the beach where Susanna was with her fiancé, Alex. When I held up the ring both of them started yelling with excitement and joy. Alex actually gave me a big hug trying to lift me off my feet. There wasn't many people one the beach but a couple people came to see what had happened. This was probably one of the most emotional recoveries I've done.
" I WILL TRY ANYWHERE "