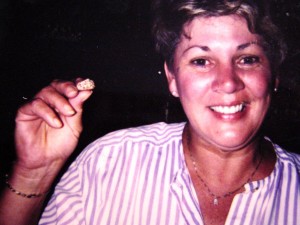 Here's a story about a very large gold dinner ring with 17 diamonds that was lost near the side of the road by a golf course in Chilliwack.
I get a call from a lady who was very upset that her husband lost her beautiful diamond dinner ring some where at a golf course in Chilliwack.
She tells me that her and her husband parked by the side of the road and jumped over the fence to play a round of golf. She gave him the ring for safe keeping.
When they got back to their car the ring that she gave her husband was missing from his jean pocket. Panic set in and the next day they rented a metal detector and searched the area that they were parked at for close to 7 hours.
Someone had seen them and asked what they were doing, they replied looking for a diamond ring. The people said if you don't find it there's a person that was in the paper who is a professional at finding lost jewellery for people and gave them the number.
They called me and I was excited to search for the ring but because I was working in the film industry I couldn't get out there till after 12 am as it was a hour and a half drive to Chilliwack.
I could tell she was put off by this so I explained my situation and told her that I could find her ring in the dark so she agreed to meet me.
I arrived after midnight and her and her husband greeted me and we discussed the search area. She said that I didn't have to search the area where they had parked as they had spent close to 7 hours searching that area with a rented metal detector.
They said that it must have been lost on the golf course, I thought for a second and told them that I wanted to search the area where they had parked as that made the most sense as he would have reached into his pocket to get the keys.
Within 4 minutes I was holding a beautiful big diamond rind…17 diamonds! Before I know it I was being hugged by both husband & wife. They told me that the insurance company had written a check for $6000. but she wanted the ring back! I'm sure the insurance company was happy that ring was found! They refunded her back the reward money that she paid me.
I love my job!
Thanks for reading my stories!