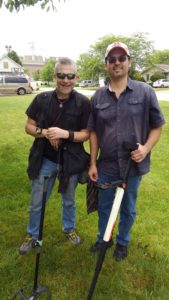 I received a call Wednesday (6/20/18) from Tim. While doing some yard work and planting some bushes at his home in Botkins Ohio the previous Friday he had realized that he had lost his wedding ring.
His 14k white gold wedding band had been a replacement for a wedding ring that he had lost a few years before. It had always fit a little loose and after planting the first bush he noticed it lying on the ground. He quickly picked it up and placed it back on his finger while thinking to himself that he really needed to get something done about the loose fit to avoid losing it. Minutes later after finishing his yard work he realized he had lost the ring yet again before he made it into the house. He related his story to me telling me that he was fairly confident that he knew a general area where it may have been lost. He was reviewing his options on what he should do. Should I buy a metal detector and try to locate it? Should I try to order a new ring? (Kind of pricey to keep doing that.)
After a few questions I told him that I was fairly confident that it could successfully be recovered and most likely in a very short amount of time. It had to most likely be in the area he thought and right on top of the ground. We made plans to get together Saturday (6/23/18).
Since the area was small and the target should be right on the surface of the ground I thought it might be fun to bring along a second metal detector so that he could try his hand at it as well. I set the detector up for him and after taking a few minutes to show him what a white gold ring would ring up like on the machine and explaining that it should be right on the surface of the ground we were off and looking for his missing ring.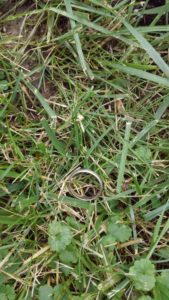 Imagine the surprise when 5 minutes or so later I came back to where he was searching and asked his wife if she could take a picture for me. She kindly replied that she could take a picture for me and then I turned to Tim and asked him if a picture of this would be good.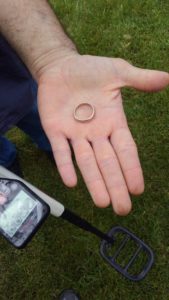 I gladly held my hand out and handed him back his lost wedding ring!
5-minute hunt… 14k white gold wedding band recovered and returned…. Happy to see the ring returned and another happy ending! So glad to be a part of it!