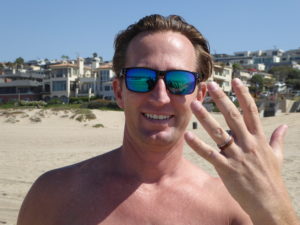 I got to help a fellow local surfer find his lost ring. I received an email from Jason explaining that he had lost his ring just 2 hours earlier, and was wondering if I could help him. I was available, and said I would be there withing half an hour to perform the search. He had the ring in the pocket of his board shorts, and when he went to get it, the ring snapped off of the cover flap, and flung itself into the sand.
When I got to the beach, Jason met me, and we walked to the spot of the loss. His marks from digging in the sand were still visible which helped to locate the area he believed the ring to have gone. It took about 5 minutes to find Jason's ring, mainly because he had brought me close to where he lost it, and because he got with me not long after the loss. It is so important to get someone out to help search as soon as you can so as to not have any outlying circumstances make it harder to find or be gone for good (waves and tide, county mechanical beach sifter cleaners, or other metal detectorists).
I was able to give Jason his ring back, a ring he had gotten in Hawaii with his girlfriend, so it held special significance to him. it was great to see his smile.
If you lose your ring or other metal item of value, don't buy a metal detector or rent a metal detector, but call one of the members of this directory. Look at the different metal detecting Ring Finder blogs and read their success stories, then call them ASAP, and they will work hard for you to find what you thought might never be found again.
I search, Cabrillo Beach, Hermosa Beach, Huntington Beach, Long Beach, Malibu, Manhattan Beach, Newport Beach, Redondo Beach, Santa Monica, Seal Beach, Torrance Beach, Venice Beach, and all parks, yards, gardens, and ponds (to 5 foot depths) in Orange County and Los Angeles County.