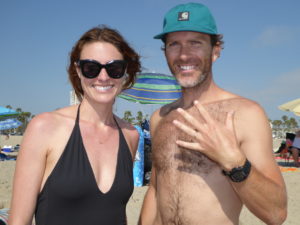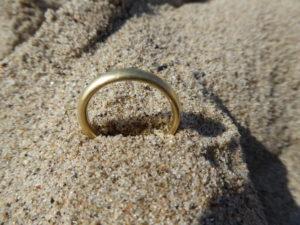 Just one week ago I received a call from Bianca about her husband's lost wedding ring. I told her I would come right away, and she told me that the loss took place near where they had set up their beach towels, which encouraged me. I haven't been able to post until now because my hard drive failed and needed to be replaced.
When I got to the beach Bianca and her husband met me and showed me to the spot of the loss. She told me that her husband wanted to go swimming, and realizing going in the water might cause the ring to come off and be lost, he gave it to his wife for safekeeping.  She in turn put the ring on her thumb, so she would know exactly where it was. While he was swimming, and she was laying on her towel watching, a ball made a perfect trajectory in her direction, which caused he to swat at it with, of course, the hand that had the ring on the thumb. Bianca soon realized that after the ball was gone, that the ring was gone also.
I began my search in the direction the ball went when Bianca hit it. I did a thorough search, and cross grid, pulling up just a few coins, and no ring. I then went back to them, pulled my headphones off so I could discuss more options. As I was walking back, I believe Bianca and her husband anticipated my next action, and removed their towels, so I could look in the area where they were laying and behind them. I got back to them, and rested my detector so I could explain how hitting the ball could have cause the ring to actually bounce off of the ball, and go behind them. After my little talk, I put my headphones back on, and picked my detector up, when I heard that unmistakable sound. I had put my detector's coil right on top of the ring when we were talking, but had not heard it because I had removed the headphones, and because of all the other ambient beach noise. I put my scoop in and pulled out this nice looking wedding ring to great joy all around. Bianca and her husband had only been married a few months, and she would have felt horrible for being the one to have lost her husband's ring. It was a great pleasure to restore their joy.
If you lose your ring or other metal item of value, don't buy a metal detector or rent a metal detector, but call one of the members of this directory. Look at the different metal detecting Ring Finder blogs and read their success stories, then call them ASAP, and they will work hard for you to find what you thought might never be found again.
I search, Cabrillo Beach, Hermosa Beach, Huntington Beach, Long Beach, Malibu, Manhattan Beach, Newport Beach, Redondo Beach, Santa Monica, Seal Beach, Torrance Beach, Venice Beach, and all parks, yards, gardens, and ponds (to 5 foot depths) in Orange County and Los Angeles County.
2 Responses to "Gold Wedding Ring Lost at Santa Monica Beach, CA…Found."