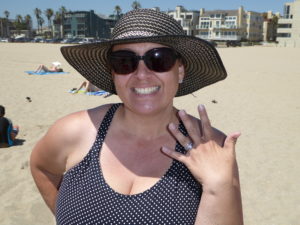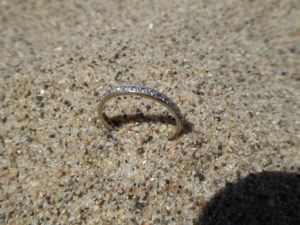 I got a call from Rose this afternoon about a ring she lost in the sand at the beach. She had taken her rings off to apply sunscreen, and not remembering they were on her shirt, she kind of flipped it over head to place it behind her, and the rings (5 in all) went flying. A couple of them landed on her, but 3 were gone. She searched, and was able to find 2 more, but the diamond band was elusive. I told her that I would leave immediately.
When I arrived parking was a bear, but I finally got to her location, and she showed me what had happened. I moved everything out of the way to search, and began. I was getting feedback from her sand chair, so I moved it out of the way, and was looking down right at the ring. I reached down and handed it to her. She was very surprised, because she had already looked in the same place, so maybe the movement of the chair when she replaced it, and when I moved it out of the way shifted the sand in such a way that it was exposed again. Needless to say Rose was very happy to have it back, and had that load of the loss removed. Great day.
If you lose your ring or other metal item of value, don't buy a metal detector or rent a metal detector, but call one of the members of this directory. Look at the different metal detecting Ring Finder blogs and read their success stories, then call them ASAP, and they will work hard for you to find what you thought might never be found again.
I search, Cabrillo Beach, Hermosa Beach, Huntington Beach, Long Beach, Malibu, Manhattan Beach, Newport Beach, Redondo Beach, Santa Monica, Seal Beach, Torrance Beach, Venice Beach, and all parks, yards, gardens, and ponds (to 5 foot depths) in Orange County and Los Angeles County.