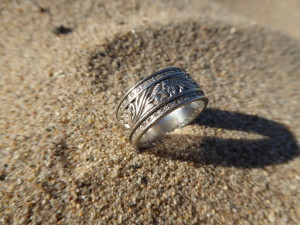 I had just gotten home from 4 hours of surfing, when I received a call from Sam asking for help to find a lost wedding ring at the beach. Knowing the importance of getting right on it, I told him I would leave immediately and arrive within half an hour or so.
When I got to the spot Sam met me there and showed me the area where he believed it was lost. It was a volley ball court, so I was thinking he was hitting the ball when he lost his ring. So I was figuring flight patterns of where his ring might have went, when he told me it wasn't his ring, but a client's, as he is a personal trainer who was putting her through a work out earlier this morning. He then pointed out the patch of sand they were using, and I got right to work. After about 15 minutes, and a little outside of where Sam thought it might have been I got a real good tone in my head phones about one inch under the sand. I put in my scoop, and out comes this real pretty ornate ring.
It was great to make his day, and I am sure his client's day. This is what it is all about, to know the story of the ring continues, and smiles all around.
If you lose your ring or other metal item of value, don't buy a metal detector or rent a metal detector, but call one of the members of this directory. Look at the different metal detecting Ring Finder blogs and read their success stories, then call them ASAP, and they will work hard for you to find what you thought might never be found again.
I search, Cabrillo Beach, Hermosa Beach, Huntington Beach, Long Beach, Malibu, Manhattan Beach, Newport Beach, Redondo Beach, Santa Monica, Seal Beach, Torrance Beach, Venice Beach, and all parks, yards, gardens, and ponds (to 5 foot depths) in Orange County and Los Angeles County.