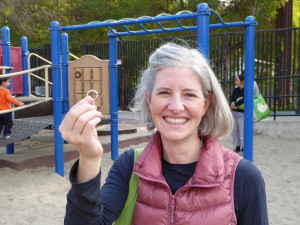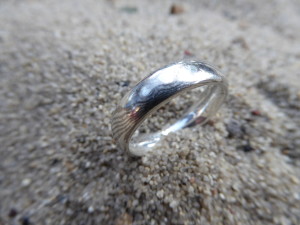 I had just gotten home from church today, and my wife was making breakfast for me when I received a call from Siobh'an about her husband's lost wedding band. She said he had been at the park yesterday with their young son, having fun playing on the playground equipment and in the grassy part of the park, when later he noticed the ring missing. She and her husband went back and searched with sifters and rakes, until they lost hope. They found me on the Internet, and saw some of the stories I had posted, and decided to give me a call. I was available I said, as soon as I finished the breakfast that was being cooked for me. I told Siobh'an I would call her as soon as I was on my way, and gave her an estimate as to when I would arrive.
When I got there Siobh'an showed me the areas of where the loss may have taken place; her husband had given her all of the possibilities. As soon as I stepped into the sand where the playground equipment was, I could see how the ring could be lost in there; it was soft and very fine. She showed me the areas from the first to the last, so I chose to search in that order. As I was searching, a very tattooed young man holding a young child, came over to me to ask me if I hadn't seen the sign posted which said that for adults to be in the children's area, they needed to be with a child. I just looked up at him, and pointed backwards, when Siobh'an came to my rescue, letting him know why I was there; whew. I searched finding a few items like foil and zipper pulls, and heard a quarter sound. I showed her the zipper pull, and she was impressed that the detector would find it. I told her I also found a quarter and called her over to show her how well my detector identifies what I am looking for. I dug the item out, and moved my pin pointer around to locate it, when I saw this silver color ring. I picked it up and showed her, and it was all smiles from then on. When I looked at the ring, it had a very unique design, and she explained how it is made by combining 3 different metals together in a process refined by Japanese craftsmen. One of the metals was silver, and that probably dominated the reading on my detector. Siobh'an told me her husband was pretty sad after losing his ring, so not only was I able to see her smile, but I am glad I was able to make his day as well.
If you lose your ring or other metal item of value, don't buy a metal detector or rent a metal detector, but call one of the members of this directory. Look at the different metal detecting Ring Finder blogs and read their success stories, then call them ASAP, and they will work hard for you to find what you thought might never be found again.
I search, Cabrillo Beach, Hermosa Beach, Huntington Beach, Long Beach, Malibu, Manhattan Beach, Newport Beach, Redondo Beach, Santa Monica, Seal Beach, Torrance Beach, Venice Beach, and all parks, yards, gardens, and ponds (to 5 foot depths) in Orange County and Los Angeles County.
2 Responses to "Mokume-gane Wedding Band Lost in Silver Lake, CA Park…Found."