Key takeaway of this story – NEVER LOSE HOPE!  If you've ever lost a ring, piece of jewelry, or other sentimental item, there's still a chance of getting it back.  Recovering a lost item from a public area may seem hopeless (especially if it's been many years), but a Good Samaritan may have found it and will try to return it, or it may just actually still be there…
I received an email from Ed on December 14th, 2019 (yes, this was over a year ago) for two lost men's wedding bands.  Ed stated that he lost his first wedding band at a public Dog Park near the Research Park area many years ago.  He figured it was long gone due to the maintenance and foot traffic.  He got a replacement band and unfortunately, he lost that one as well.  He felt fairly certain that he lost the second ring in his backyard and he would like for me to come out and conduct a search.  I sent an email back that I'd be more than happy to help look for both rings and asked when a good time was.  I didn't receive a response.  About a week later, I sent another email, but still no response.  Ed didn't leave his phone number, so I assumed that he just changed his mind.  I put the details in my notes and forgot about it.
The end of 2019 and beginning of 2020, I was dealing with the unfortunate issue of cluster headaches.  They were getting worse, so I was trying to figure out the root cause.  Long story short, I had an MRI and discovered that I had a Meningioma/benign tumor in my head.  I had a craniotomy on May 26th, 2020 to remove it.  The surgery went well and the tumor was removed!  By the end of 2020, I was all healed up, headache free, and feeling better than ever!  I could now go out metal detecting as much as I wanted (work schedule and weather permitting lol)!
I was looking back at past inquiries I received as a Ring Finder.  Ed's email about his 2 lost wedding bands stuck out to me.  I figured a search at the Dog Park would be fun, plus there was the possibility that a lost ring was still there.  A quick Google search and I was fairly certain Ed lost his ring at Creekwood Dog Park in Madison, Alabama.  I emailed Ed on January 13th, 2021 to confirm and get details on the specific area he was in.  A few days later he replied back and confirmed it was at Creekwood, and he even provided a Google Map image with a line he drew of the entire path he walked from the parking lot and back (photo on left side below).  He also said that he last remembered having the Palladium ring when he was sitting at the picnic table on the right side of the fenced in play area (green roof structure on photo on right side below).  Further, Ed told me that he found his replacement wedding in a sock drawer!  Only one ring left to find!
I went out to Creekwood the following day, January 18th, 2021 for the search.  Before I started, I prayed to God and asked Him for a safe and successful search.  I also asked Him to guide me and put me in the location where Ed's ring was.  Armed with my Minelab Equinox 800 and 15 inch coil, I decided to start at the picnic table and conduct an east/west style grid walking towards the middle fence that separated the two large dog play areas.  I had a lot of ground to cover, but I remained optimistic.
I finished my second grid line and noticed that there were some dog hurdles further down the fence line, so I stayed and searched some more along the fence area.  About 30 minutes into my search and 5 feet from the fence and second gate separating the two play areas, I get a loud and solid 17 on my Equinox.  About an inch down, I uncover a man's wedding ring (red "X" on photo on right side below)!  Wiping away the dirt, I can see a unique basketweave style design on the outside of the ring.  I tried wiping the dirt off from the inside to check for a marking of what type of metal the ring was.  However, there's a grove on the inside that I wouldn't be able to clean off until I got home.  But, I was pretty positive that this was Ed's ring!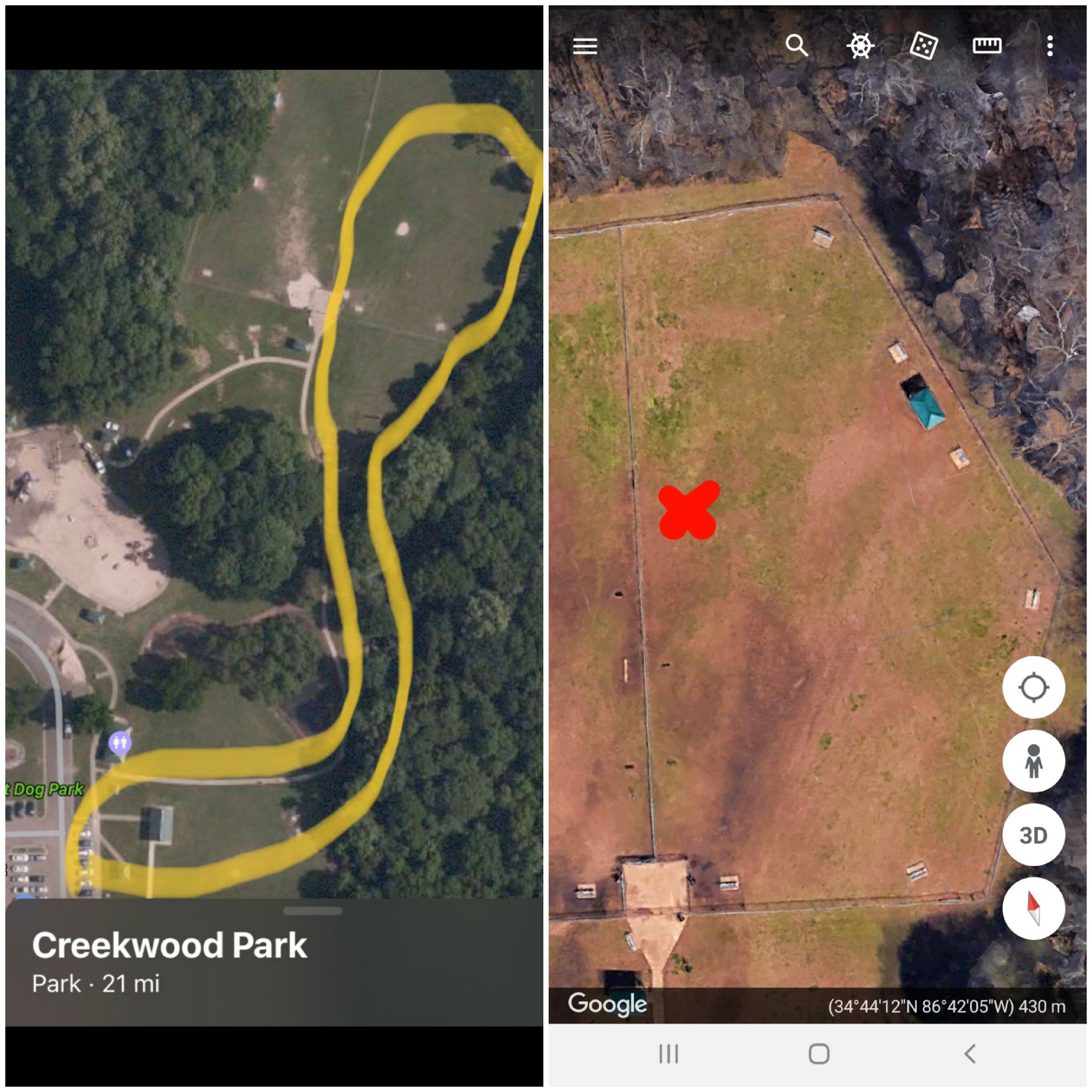 I got the ring home and cleaned it off.  I then saw a PD 950 (Palladium) stamp on the inside of the ring…this was indeed Ed's lost wedding band!  Wow, against all odds!!!  I thanked the Lord for this miraculous recovery!
Details that I learned when I returned the ring to Ed a few days later:  This ring was lost in 2015, so it's been sitting in a public park for 6 years!!!  Ed didn't actually have the ring on his finger.  It was looped through some paracord and tied around his neck.  Ed bought a cheap metal detector and tried searching multiple times and spent numerous hours looking.  He even took a large magnet on wheels that is used to pick up nails in hopes that the ring had some magnetic properties to it, but after all the attempts, still no ring.  He then put up lost ring posters at the park, but never heard anything.  Ed assumed that someone must've have found it and that was the end of this ring's story.  So, when I sent him a photo of the ring, he was shocked to say the least!  He told me that he never thought he would see this ring again and he was very disappointed when he lost it.  I'm happy to say that this ring's story now gets to continue!  Athena, Ed's dog that was with him the day he lost his ring at the park is sitting in the front seat of his truck smiling along with Ed in the photo below!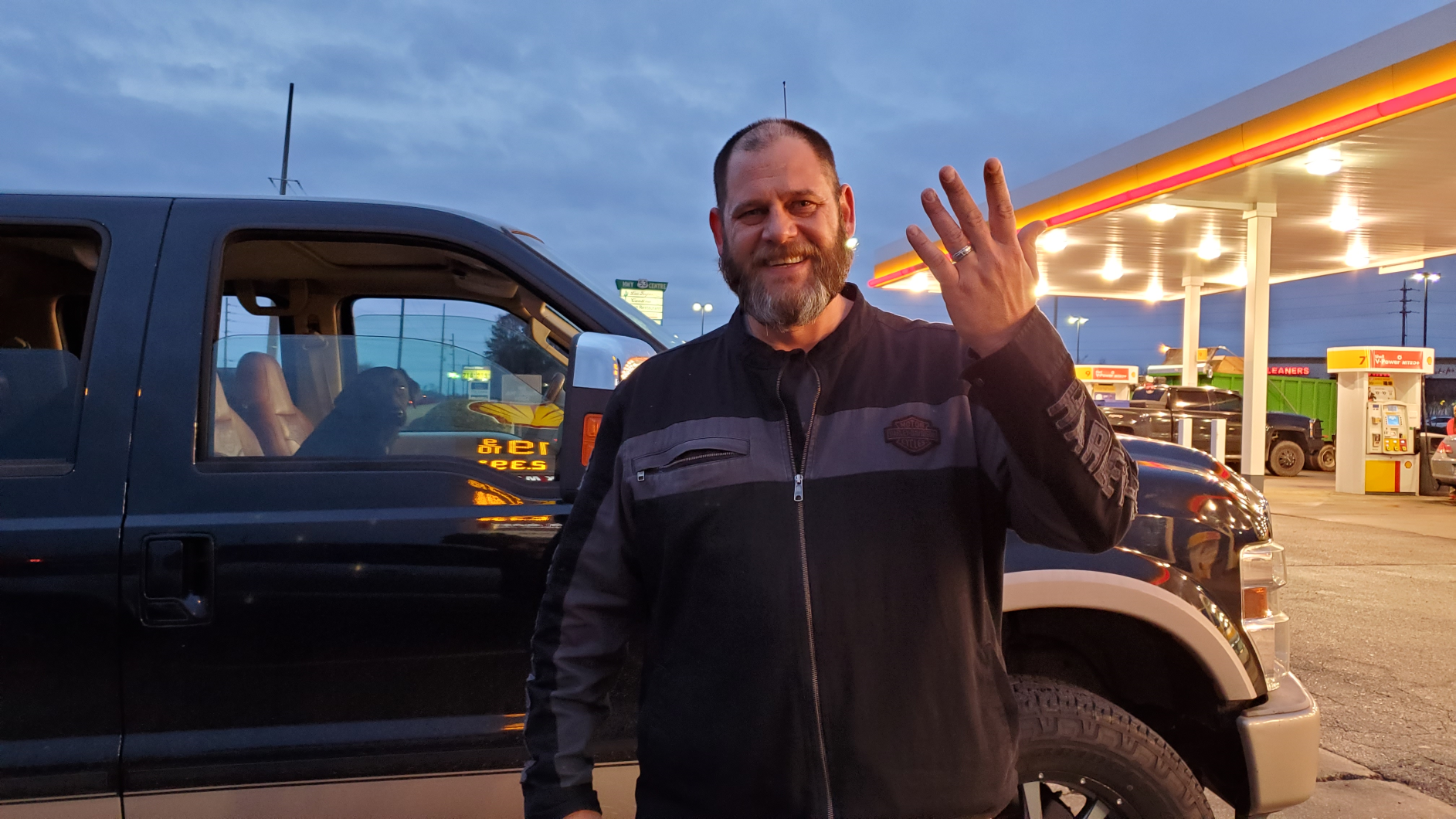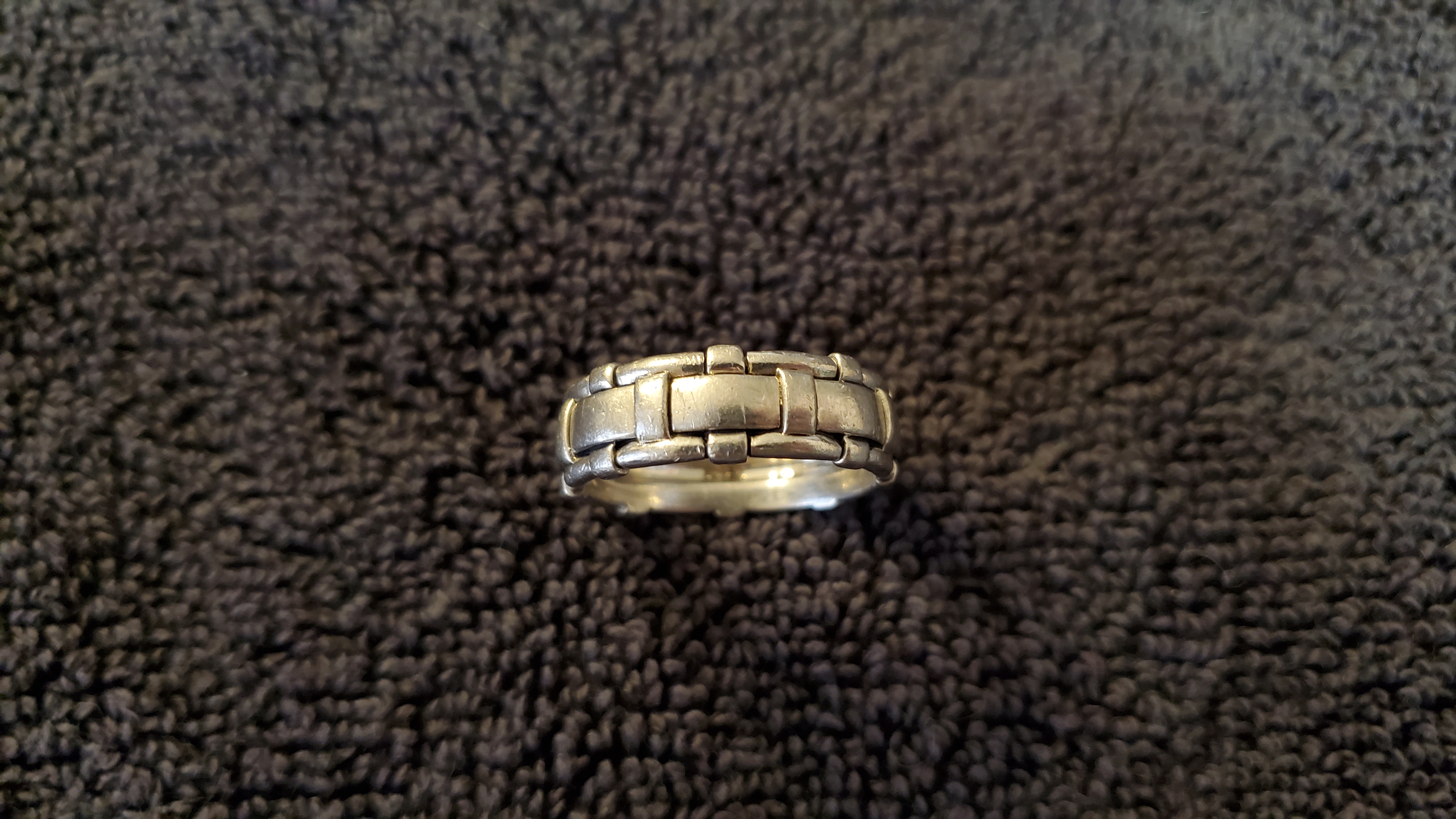 It's really a blessing that I get to use my hobby of metal detecting to help others!  It's honestly one of the most rewarding things I've ever done and get to do!  Huge shoutout to Chris Turner and The Ring Finders Directory!  Without it, none of this would be possible.
Christina McCree – Lost Item Recovery Specialist…Call or Text ASAP, Anytime 24/7…610-504-6135!