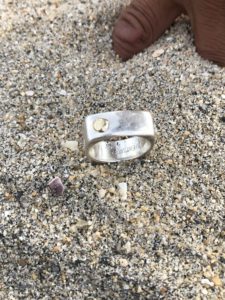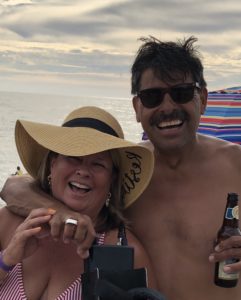 TheRingFinders beach Metal detecting service in San Diego California helped find a lost silver wedding ring band 760 889 2751 OPEN NOW.
As easy as a wedding band can be lost in the beach sand,it can also easily be found by a Metal detector specialist. This call I received was from a lady asking if I could help them find her husbands ring buried at Carlsbad state beach. She mentioned that he threw the ring for her to catch before going swimming and it disappeared into the dry sand…Uh Oh.!
Fortunately,I am available to leave at the drop of a hat to go help them or others in need.Not so many guys with detectors can say that having limited free time or living far from these local San Diego county beaches.
So I arrived to the scene of the lost ring in just under 20min of the call to meet the nice family here on vacation.Before turning on my Advanced P.I Metal Detector,,I asked and answered a few questions to better help this search out. They had actually spent some time sifting through the sand with help of the nearby fellow beach goers…Funny thing I actually knew that right away because the beach sand always looks like Chinese grass/mounds afterwards Which is a slight concern to some noting the lost ring could be buried even deeper now.
"Onwards" however,This was not a problem for me either as I was able to unearth his precious wedding ring in merely just a minute of searching.Then to my surprise,,The entire beach around us electrified immediately with thundering clapping,Cheers and joyously big smiles every where I could glance at!
This is why I love this hobby as an agent of TheRingFinders,,It was the closest thing I could ever feel to being a super hero or maybe even having some kind of super powers ?? Ha;) But Especially during this COVID-19 Pandemic.. doing anything you can to help out others in need is a very rewarding object,,,That generates good Karma!