A gentleman contacted me about losing his ring while doing yard work in East Hartford, Connecticut. Before calling me, he and his friends spent hours on their hands and knees searching the yard for the lost ring. They even used their metal detectors to search the yard – no luck. The last memory of the ring was placing it in his pocket just before beginning the yard work.
Once I arrived to discuss the situation, he explained how he got off the mower in a few different places throughout the yard. He couldn't exactly remember where but he mentioned the mower getting stuck a couple of times. I began looking for soft spots and sunken areas in the grass where the mower could have gotten stuck. I was thinking maybe the ring fell out of his pocket while getting off the mower. One of the first places to catch my eye was a disturbed clod of grass with fresh dirt exposed. I scanned the spot, and immediately a loud signal rang through my metal detector! I found the ring just under the exposed soil next to the clod of grass! Just like that, Anhtuan was wearing his ring once again.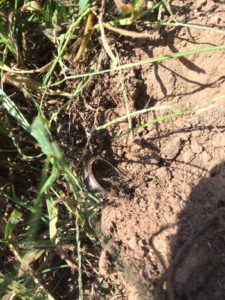 Anhtuan Sarita Vo's Testimonial:
I've spent countless hours and with 5+ hours on our hands and knees all over my front and back yard… Metal detectors and every last resource I had trying to find the wedding ring I lost three weeks ago… Today, Keith Wille came over, 15 minutes in, and he found it… Unbelievable! If you lost any jewelry and can't find it, Keith is the guy!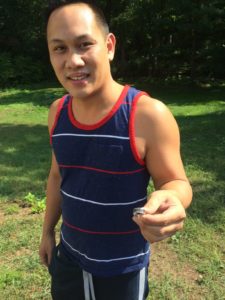 Have you lost a piece of jewelry while doing yard work? My jewelry finding service covers Connecticut, New York, Massachusetts, Rhode Island, and other surrounding states.
Call or text | 860-917-8947
Email | uncoverthings@yahoo.com
Website | www.metaldetectionkeithwille.com
Media Mentions:
http://www.newyorker.com/business/currency/the-lost-jewelry-hunters
http://www.wfsb.com//Clip/12684346/mans-missing-wedding-ring-found-at-waterford-beach#.V7693rpuG4k.email
http://www.theday.com/local/20160823/with-stroke-of-luck-waterford-resident-gets-his-ring-back
http://patch.com/connecticut/waterford/widower-embraces-man-after-finding-treasured-wedding-band-waterford-beach
http://www.thewesterlysun.com/home/9309240-154/surf-gives-back-ring-with-a-little-help.html#gallery-1