A beachgoer lost his heirloom wedding band in front of Ocean House, Watch Hill, RI early May 2018. By the time he realized his ring was forgotten on his beach towel, it was already too late. Digging in the sand with your hands to retrieve a ring is a near-impossible task. However, when your deeply value possession disappears, you have to try something! After a good hand digging effort he thought his lost ring was gone forever…
The gentleman reached out to local lifeguards and other resources, eventually, he came across a referral of my services from a 2016 ring find at Westerly Town Beach. After quickly discussing the details surrounding the lost ring, my wife Allie and I rushed down to the Watch Hill Beach in front of Ocean House to see if we could find it. The gentleman brought us to the location where he remembered placing his towel the previous morning. Allie and I began to search with high hopes. Check out Allies story below to find out what it's like seeing that gold in the sand… Which means someone will be reunited with the heirloom that was lost forever!
"Today I found my first ring! Keith has reunited so many with their lost treasures and today I found his why. It was such a beautiful moment and one I will remember for a lifetime. His wedding band had been passed down from his grandfather, inscribed with the wedding dates of his grandparents and parents! Beautiful! My heart is so full, it feels like it could explode."
Another lost ring found and reunited with its owner!
Testimonial from Nate Kirk:
"Miracles are possible. If 6 stars were possible I'd give them 6 stars! My lost item was a grandfather's wedding ring (engraved with his wedding date). I had taken my ring off, put it on my towel to go for a swim (and not lose it while swimming). When I got home, my heart sank when I realized it was "probably" at the beach. I placed a call to Kieth and he asked a few thoughtful questions and arrived in 20minutes. His wife was with him (they both had equipment) and she found the ring in 15min. I cannot express how grateful I am that they found it. He was extremely professional and efficient (pics attached)."
Lost a piece of jewelry on the beach? Lost a ring in the water? Jewelry is commonly lost during our favorite summertime activities. Don't waste your time with a metal detector rental or with a local hobbyist, have a professional member of The Ring Finders find you lost ring or jewelry. I serve Connecticut and surrounding states. If you lost a piece of jewelry, contact me now through www.TheRingFinders.com or www.metaldetectionkeithwille.com or call/text 860-917-8947.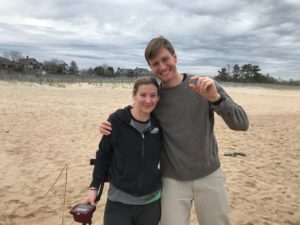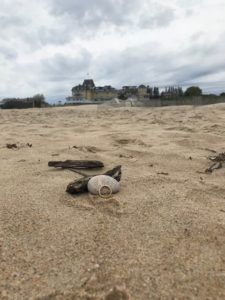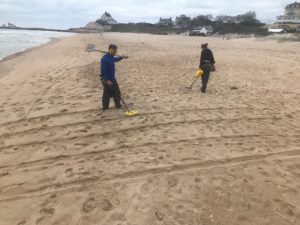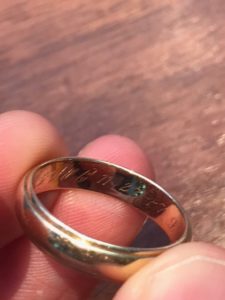 Keith Wille's Media Mentions:
https://www.nytimes.com/2017/01/16/science/archaeology-metal-detectorists-pequot.html?_r=1
http://www.newyorker.com/business/currency/the-lost-jewelry-hunters
http://www.wfsb.com//Clip/12684346/mans-missing-wedding-ring-found-at-waterford-beach#.V7693rpuG4k.email
http://www.theday.com/local/20160823/with-stroke-of-luck-waterford-resident-gets-his-ring-back
http://patch.com/connecticut/waterford/widower-embraces-man-after-finding-treasured-wedding-band-waterford-beach
http://www.thewesterlysun.com/home/9309240-154/surf-gives-back-ring-with-a-little-help.html#gallery-1