I am an expert metal detectorist with the knowledge, skill, and experience to recover your lost items on land and underwater. Please text or call as soon as possible: (703) 598-1435
Found January 7th, 2023
On December 29th, Cole was driving home late at night along a winding road in Woodbridge, Virginia. He tossed out a cigarette butt and his beautiful new diamond ring unexpectedly flew off his finger into a roadside ditch. He saw the rings trajectory, stopped, and looked for the ring to no avail. The next day he called me, and we set up a time to meet so he could show me the area and I could begin the search.
The ditch is close to a busy, winding road. I wore my yellow safety vest, used warning reflectors, and turned on the emergency flashers on my SUV. The ditch had a lot of debris, and the search was slow. After a few hours, it was getting too dark to continue. I told Cole not to be discouraged as I would schedule another search as soon as possible.
As Cole drove off, I discovered my SUV battery was dead! Apparently, emergency flashers on newer cars drain the battery much faster than the cars I grew up with. I couldn't even open my electric hatchback to access the jumper cables. Thankfully my heroine, Mrs.E., came to my rescue with a portable jump starter.
On January 7th, I returned to the ditch to continue the search. After two more hours of searching, I found the ring deep in the debris. I texted Cole with the great news, and we met so I could return his beautiful ring!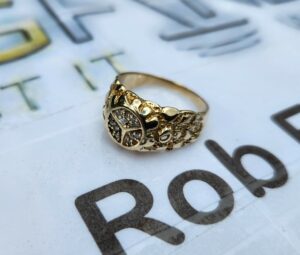 Some technical data for Ray, Brian, and my other Ring Finder friends: 10K, weight 7.8g, Equinox 800 TID=16, Deus 2 TID=71.
Rob Ellis: Metal Detector Expert… Call/text ASAP, (703)-598-1435
Don't give up. Many of my clients have bought, borrowed, or rented a metal detector before calling me. Just because someone has a tool, it doesn't mean they know how to use it. I use state of the art equipment, and I have thousands of hours of experience searching on land and underwater. If you have tried using a detector without success, please call to see if I can help.