Hey guys and gals!
Monday, the 10th of October, I got a text message from a gentlemen named Vic asking me if I could help him find his custom made 22K wedding ring. Vic, his wife, and close friends, had been enjoying Columbus day at one of the largest State Parks in Southeastern New Hampshire, when he encountered what would perfectly describe the ideal situation for loosing a ring, it was dusk, he was in the frigid waters of Lake Pawtuckaway, and lastly he was playing catch with a Frisbee.
Straight out about 20 yards from the rocks in the first photo was where the ring ended up being found. Vic was happily reunited with his beautiful ring and he learned a good lesson, but I will have to admit I learned a lesson too, never give up and always remember the basics. I looked for Vic's ring for two hours before deciding I needed a break. I was cold and kind of light headed from splashing around in the cold lake water, so Vic and I sat down to warm up in the sun and he set out telling me how it's a custom where he's from for each partner to have the others ring custom made and how they do not see the ring until it goes on their finger at the wedding. Turns out the designs each one chose was almost identical, which in their opinion was pretty awesome.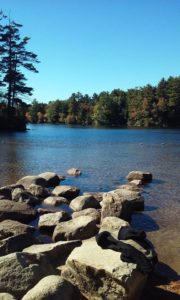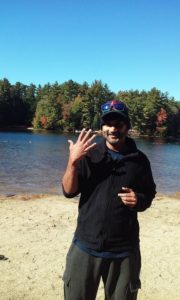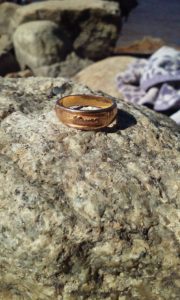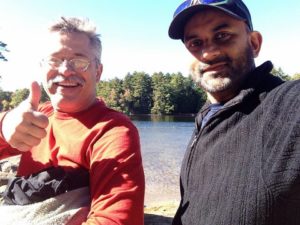 I listened to Vic's story again on how he lost his ring and being it rang so true to how a ring is lost I had to determine one of two things was going on, concerning me not finding the ring yet, my detector was not working correctly or the ring fell on or near a piece of iron and my machine was discriminating out the iron and the ring at the same time. I proceeded to start my hunt over in all metal mode and dig everything that beeped and a long story short I got a hit on a couple of objects side by side, scooped them up and had a bobby pin, a small nail, and a 22K gold ring. Turned out to be a gorgeous day!
Guy Fuller 603-809-3622 🙂