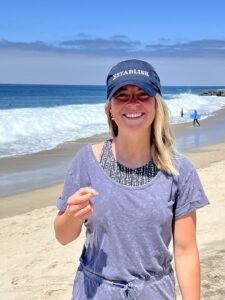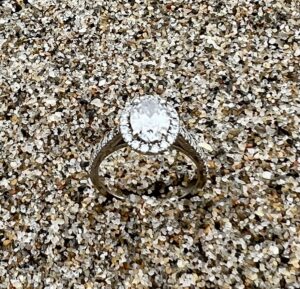 Stan the Metal Detector Man is available to help you now .. Call or Text ASAP .. 949-500-2136
.. Keri and her family are vacationing in Newport Beach from Salt Lake City, Utah. On the second day of their 7 day vacation she discovered her white gold diamond ring was missing. The family went to the beach that morning and she realized she still was wearing her diamond wedding ring. She put it in the beach bag for safe keeping. 
After returning to their summer rental house. She couldn't find her ring in the bag. They believed the ring may have come out of the bag while they were at the beach. Several members of the family had retrieved items from the bag and it could be possible the ring could be in the sand. 
I met them shortly after they called me that evening. After not finding the ring in the dry sand, I learned that they had actually set up their beach chairs below the normal towel line. The tide was high so I agreed to return at 6:30am searching the low tide wet sand. After two hours I had cleared most the low tide area. No ring to be found. 
I only had a few minutes before I had to leave for a 9:30 doctor's appointment. My best move would be to expand the towel line search where Keri's husband told me they had not been that far south. Guess what ! Yes the ring was there and not down in the wet low tide. Actually nobody could definitely say where the ring came out of the beach bag. Remember Keri didn't even know the ring was missing until they had returned to their summer rental. Process of elimination is what we were doing, just lucky that the ring was hiding in the sand where a Metal Detector can find it.