Call Ray for rapid and professional detecting services – 571.258.7217 MyGoldFinder
I received a call early this morning from Georgia in southern Virginia and she asked if I could help her. I asked her the typical few questions to get an idea of location and scope of work and found that she was approx. 2.5 hours from my location being located in Charlottesville VA. Georgia was worried that the drive was too long for me, but I put her mind at ease stating "this is what we do", we'll travel as far as we need to in order to recover a lost item.
Georgia had lost her ring the day before while outside on her property planting flowers, pulling weeds and doing a general clean-up of the yard. I told her I would be there in several hours and hopped into the truck. Upon arriving at her location I was so immersed in the scenic view from her propriety I almost would have forgotten why I was there, simply a gorgeous view of the Blue Ridge Mountains from her back deck. I was greeted by Georgia upon my arrival and we immediately went to the areas where she thought she may have lost the ring; in the grassy area leading towards the woods where she had been tossing yard waste and then back along the same path towards the back of the house and into a raised garden bed.
I started working in the brush pile first to see if she had maybe lost it while tossing the yard waste into the woods. After a brief search at the surface level I decided I would come back to this area and do a more in depth and expanded search…so we headed towards the back of the house and Georgia explained what she had been doing with planting the flowers and that she had even taken them back out to try to find her ring. I started by search with my Minelab Equinox 800 and immediately started to receive a pulsating rhythm in the tone (found out later there was an electric dog fence in the back-yard which what probably caused the pulsating). I determined I would still be able to hit the desired targets and started the search. I conducted a brief scan in the grass before stepping up into the raised garden bed. A few scans around the flowers and the immediate vicinity I did not locate the ring….then only several feet away and on the surface in the mulch there was Georgia's beautiful Snowflake Platinum ring shining in the sunlight like a beacon.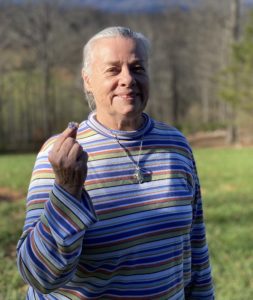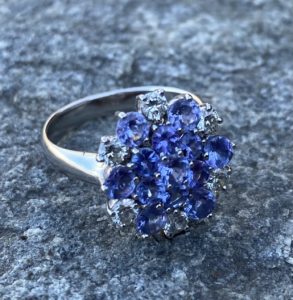 Georgia was so excited that I had found her ring so quickly and couldn't wait to put it back on her finger. I asked if possibly the ring was too large and if that's why it fell off, but actually she stated for the yard work she had placed it on the opposite hand which her finger on that hand may be a little smaller and made it easier to come off. A lesson not soon lost 🙂
Georgia was simply charming and wonderful to talk to, I was so pleased to be able to return her ring to her today.
Another happy recovery, another happy customer and another Holiday memory saved. God Bless!