Christina McCree – Lost Item Recovery Specialist for North Alabama and surrounding areas…call or text ASAP, anytime 24/7…610-504-6135
I received a text message on Tuesday afternoon (August 3, 2021) from a younger gentleman stating that his father, Michael, lost his ring while laying mulch near his house in Murfreesboro, Tennessee.  I was able to take off from work early and was on my way.  My nephew, Sean, came along for this adventure.  He graduated from High School in June and had recently moved down to Alabama about a week prior.  Sean was excited to come along as he'd been looking forward to helping me with my next ring search.
After we arrived at Michael's home in Murfreesboro, we were shown the area where the mulch was freshly placed earlier in the day.  I noticed a large trash bag and trashcan full of clippings.  I was told that the landscaper had done all that work.  Michael only laid the mulch, and he knew for sure that he had the platinum Tiffany & Co. ring on his finger before he started.  The ring was given to him by his grandmother many years ago and had a special Steam America ship design that is no longer made.
I turned on my Minelab Equinox 800 and got to work.  The area where the mulch was placed wasn't very large.  I carefully searched all spots around the trees and shrubs.  About 15 minutes into the search and ¾ of the way through, I received a shallow and very promising 7-8 on the Nox.  Using my Garrett "Carrot" pinpointer, I searched through the mulch and located Michael's missing platinum Tiffany & Co. ring!
Michael wasn't home at the time we found his ring.  He arrived a few minutes later and was told the great news!  Michael was overcome with joy and relief as he was handed back his very special ring!  I'm always happy to help and blessed to be a member of The Ring Finders!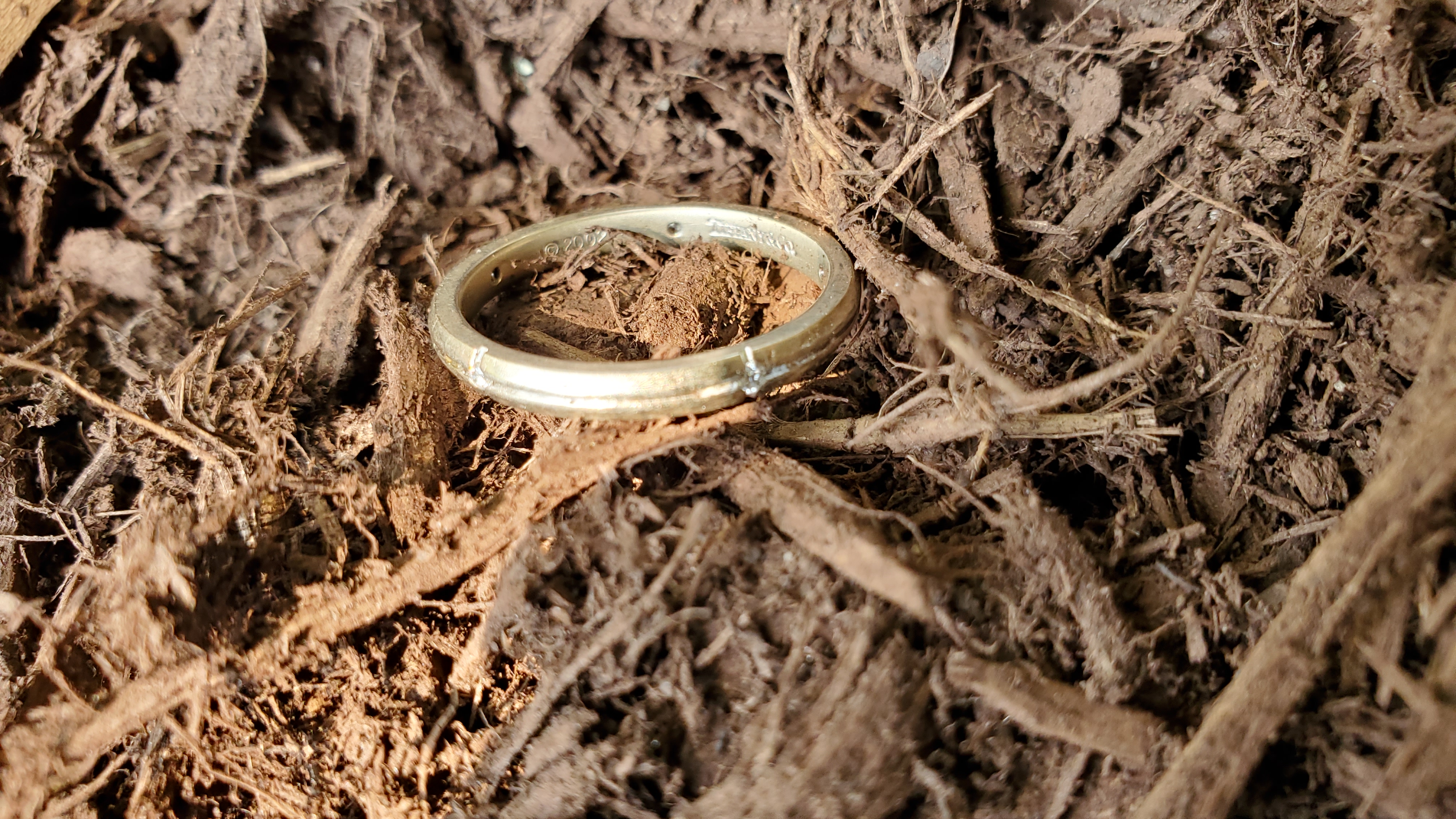 If you or someone you know has lost a ring, jewelry, or other metal item, please contact a member of The Ring Finders.