Call Ray at MyGoldFinder for lost items 571.258.7217
www.mygoldfinder.com
I recently received a call from a customer, Chris from Arlington Virginia. He provided a brief description of his situation and asked if it was something I could assist him with, I said "absolutely I can help".  Chris had taken a short Saturday trip to Northern Virginia to do some fly fishing with a friend. They had picked a beautiful area in Loudoun County, specially Middleburg, Virginia. As Chris was fishing and moving through the creek he had stumbled hands first into the water. He had hit with such force that his left hand was in a lot of pain which caused him to start shaking his hand vigorously to alleviate some of the pain. After returning to his vehicle a short while later is when he realized the ring was gone. As with most of us these days with teleworking we arranged to meet on the following Saturday. With no rain in the forecast we both agreed the water levels should more than likely stay low and calm, that was the hope.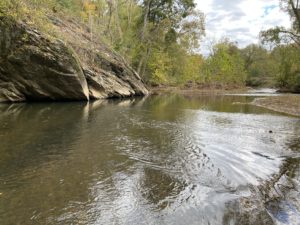 Chris was fishing in a small section of Goose Creek, which is a 53.9-mile-long tributary of the Potomac River, somewhat adjacent to the Goodstone Inn. After a very scenic drive through large sections of horse ranch country, even had to stop once for a few horses and several dozen hounds on the road,  we met on along the roadside of the creek. As we had to trek the path to the spot where he had been fishing Chris donned his waders and I slipped on my wetsuit, a little overkill on my part for a creek, but you never know when you'll hit a drop off.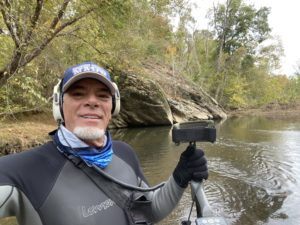 Once we reached the area Chris identified where he had fallen I did a quick scan in the running water portion first, then more specifically where he indicated. Within less than 5 minutes the ring came up easily out of the mud and leaves. Chris was astonished it was found so quickly and extremely excited to see his ring again. Jokingly, Chris' friend had believed the ring was gone forever and that we wouldn't find it. Always keep hope!!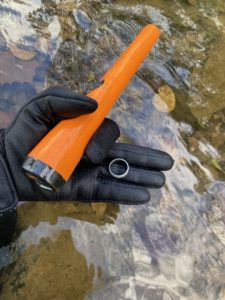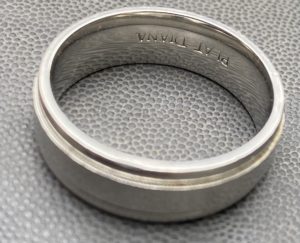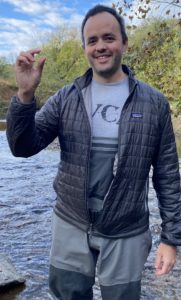 Chris, glad I could help return your wedding ring!
God Bless
Ray