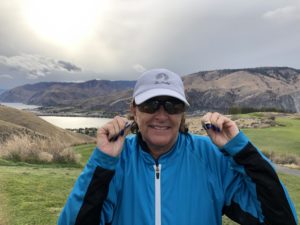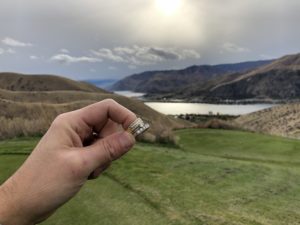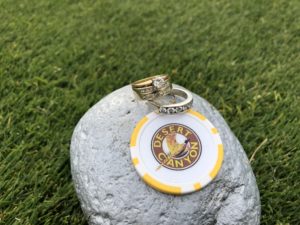 Watch, like, share and subscribe to this video:
SeattleRingHunter Lost Item Recovery Specialist LAND & SCUBA Call ASAP 206-618-8194
Julie called and explained that she had been golfing with a lot of friends just a few weeks prior when she lost three precious wedding rings. She ask me if I would be willing to assist them as they were lost at Desert Canyon Golf Resort near Chelan, WA three hours over the mountain pass. She went further to explain that they no longer live in Washington state and had already planned a return visit to the Seattle area and had set aside one day to make the three hour drive to the golf course to look. She said they were planning on getting some metal detectors and seeing what they could do when a friend suggested they go online and find a metal detecting recovery specialist. A quick search online directed them to TheRingFinders where she found my offering of service for the Pacific North West Washington area.  
She went on to explain that she had played a full eighteen holes of golf on that Saturday and Sunday. I asked for more details and learned that just prior to playing on Saturday she took both rings off. She placed them in one of the pockets of her golf pullover windbreaker and zipped it up thinking that would keep them secure. Well unfortunately after nineteen holes of golf when she went to retrieve her precious wedding rings they were gone. The pocket was still zipped up and her pullover was with her the whole time. She had lost a very precious wedding set consisting of her yellow gold diamond wedding band soldered to her yellow gold wedding band that had been custom made in a matching design of her husbands wedding ring. A second white gold wedding band with seven channel set diamonds that was given to her on her 20th wedding anniversary was also lost. 
She told me she had found a small hole in the seam of the pocket that allowed both rings to slip to the inside lining of the jacket. At this point I began asking myself where do we even start searching if these rings just fell out of her clothing anywhere along the golf course. She went on to explain that the inside lining was not stitched at the top edge so it was like a bigger internal pocket. Her idea was that the rings most likely spilled out when she was taking the pullover on and off several times while playing nineteen holes of golf. She remembered only taking the pullover off near her golf cart. However exact details of where these actions took place were not so clear as she had played that course two days consecutively and detailed memories started to blur together.
She confirmed she had already made arrangements with the Desert Canyon Golf Resort management and they welcomed her to come back to search the course for her lost rings. She explained that her and her husband, Keith, already had travel plans set to arrive in Seattle on a Wednesday night and were planning to drive out to the golf course that next Thursday morning irregardless of anything else. 
It didn't take long for me to be fully on board to support this mission. I explained to her that Thursday was wide open in my schedule and not to worry about getting additional metal detectors. I explained to her this would be a very challenging search due to the large distance traveled over nineteen holes of golf and not having witnessed the area where the rings were lost. I told her not to worry as I would bring some additional metal detectors for her and Keith to use. Knowing what a large search area we had the more machines the better especially as this site was at distance over the mountain pass it would be more challenging for a revisit so I knew we had to take every advantage of this opportunity. 
As planned each of us made the three hour drive over the mountain pass for an early tee time only today we would be swinging metal detectors not clubs. The Desert Canyon staff and local community was amazing. Everyone had been actively searching for the lost wedding rings for the past nineteen days yet to no avail.  Our first order of business was heading directly into the pro shop to speak with Rob the manager. It was at this point I learned that one of Julie's friends had taken several photos of the group throughout that day of golf. Julie had Rob review the photos as she took notes as he did his best to identify what holes were associated with each photo. When he finished reviewing the photos he slid two golf cart keys across the counter and wished us the best. 
The weather was typical for Eastern Washington at this time of the year. It was cold and windy but the Lord blessed us by holding back the rain and frost so there was no delays in getting started with the search. I allowed Julie and Keith to lead the way as she best knew key areas of the course where she may have taken the pullover off or put it back on. Still there was not definite spots leaving a lot of unknown possibilities over such an expansive search area involving a lot of active movements while playing golf! Never the less we pressed on starting our search on the front nine holes. After completing the front nine and still no rings we took a lunch break to warm up and refuel. Our search continued on with the back nine as the wind started to pickup and the temperature started to drop. As with many long searches even experienced recovery specialist like myself need to push back the doubt and remain in the game to the very end. Around hole five I began to wonder where these rings were hiding knowing that only a few more holes remained and our search would soon be over.
After four hours of actively searching we reached the 6th hole and with in just a few minutes I had a strong target with excellent numbers on my metal detector. As I started to work the ground with my pin-pointer Keith strutted to get excited as this was the only hole from the set of photos that showed her wearing the pullover at the tee box and no jacket on the green. This meant that Julie absolutely took her pullover off somewhere on this hole. As I worked the ground I pulled her yellow gold wedding set from the thick luscious grass and asked how would you like to have this back. At this point all three of us erupt with excitement and disbelief. Julie is overcome with emotion and so very happy to have her wedding rings back. At this point we all took a few steps back as I continued to work the area for her white gold 20th anniversary ring. Within a minute I pulled her second ring from the thick grass to everyones surprise.
Of all the holes she lost her rings on Desert Canyon's Signature Hole 6. All who visit this hole are blessed with a breath taking view of thick green golf course grass contrasted with the dried out stubble of the rolling hills sides with the Columbia River below and silver lined cloudy skies above. This beautiful creation in nature is an absolute testimony of how God's hand prepared a path for us free of obstacles allowing us to experience a successful recovery. These rings representing twenty-five years of marriage, love and memories were recovered and will continue with Julie as a reminder that good things still happen and not to loose faith and hope ever.
Please take the time to watch, like, share and subscribe to this story on my YouTube channel. In doing so others will learn of TheRingFinders and know when the time comes there is a specialist nearby that can offer them some experienced support in getting their precious items of value back!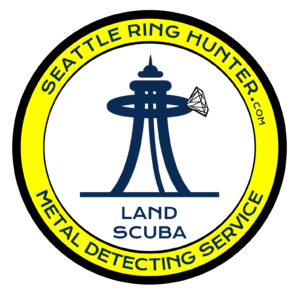 Cheers,
Jeff Morgan
#SeattleRingHunter
206-618-8194