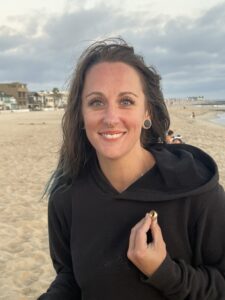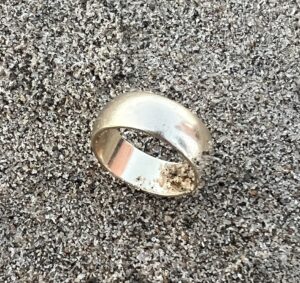 If you need a metal detecting specialist call or text Stan the Metal Detector Man  … 949-500-2236
*** Sara is visiting Newport Beach from Idaho. Her friend was getting married and she wanted to see the ocean while being here in Southern California. The group of friends walked out to get a view of the Pacific Ocean, she stood on the upper sand watching the waves. She threw her hands in the air and her gold ring went flying. As the ring hit the sand it disappeared immediately. It happened so fast she couldn't determine what direction it went. She knew for sure that was when the ring was lost.  Many times people think when they notice the ring missing that could be where it was lost.
Sara and her friends were able to optain a loaner metal detector. This was not going well so one of her friends found my information online after a onlooker suggested getting a metal detecting specialist. After receiving the call I met them on the beach a couple miles from where I live. The tide was coming in but we had plenty of time before it would be a problem.
Setting up my grid pattern to go over the area they had already searched, I planned to go outside the zone they had believed the ring had traveled. Rings seem to come off at the end of a throw. Sometimes they come off straight down to the feet of the person that threw a ball, brushed of sand off their clothes, rings lost playing volleyball can end up in the craziest of places. This ring was actually found ten feet outside of where everyone thought it would be..All those that searched for the ring were totally surprised where the ring ended up. Nothing surprises me anymore. Sara was very grateful, this was a ring that was a family heirloom, irreplaceable.
Call me anytime time if you have any questions about how this service work… Available to help you now.. I WILL TRY ANYWHERE