Valentines Day Wedding Ring Lost, Found and Returned on Siesta Key Beach, Florida
Ron and Mercy Manning were spending the week of July 4th with her family on Siesta Key. Ron was out in the water throwing a ball when his white gold wedding ring came off and went into the water. The whole family went in the water looking for the ring. Ron and Mercy had planned to stay at Siesta for the whole week until Mercy's sister injured herself and had to be taken back to Miami. Losing the ring and having to leave it behind broke Ron's heart and also their daughter who was afraid that the ring was gone and her parents would no longer be married. Mercy reassured her that they were still married.
Upon returning to Miami Mercy found theringfinders.com on the internet and contacted Tom Jones on July 7th and scheduled a hunt for July 8. Tom, Mike Miller, Mike Shuler, Ed Osmar and Mark Sillence arrived at the beach and started hunting for the ring. After searching the area where the ring was lost with no results, Ed and Mark moved to the gulf side of the sand bar. Not long after Ed yells out, "is this it?" Tom took the ring and read the date 02/14/97 which was Ron and Mercy's wedding date. Tom called her on facetime to give the good news and be able to see her face when she saw the ring. She was over joyed when she heard that the ring had actually been found. Mercy called her aunt who was still on Siesta and the ring was given to her to take home to Ron.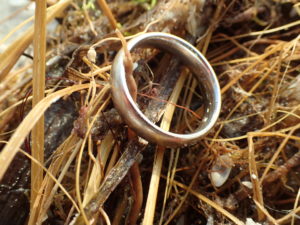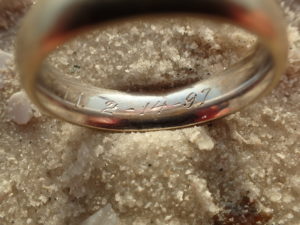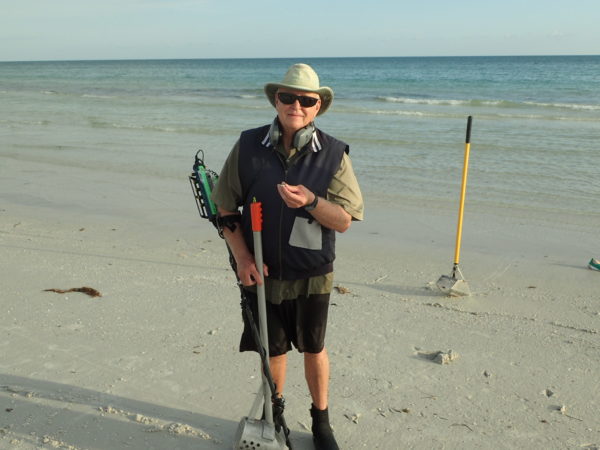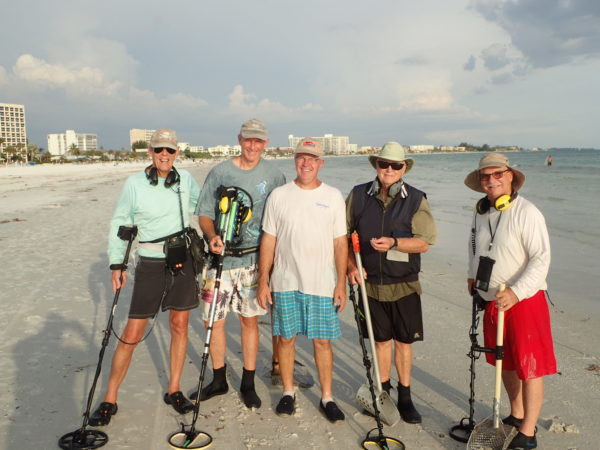 The SRARC Ring Finders Metal Detecting Service-Tampa Bay Area, Pinellas, County, Manatee County, and Sarasota County.
Lost Something Important? We can HELP, Our service is FREE!!!
Donations to the club are accepted.
The Ring Finders Metal Detecting Service in the Tampa Bay area can locate your lost engagement ring, wedding ring, favorite piece of jewelry, family heirloom, or other important personal item.
We will send a team of metal detector experts to search virtually any location, some of the most common are parks, beaches, creeks, and even your own back yard. If you lost your RING or other precious item "Don't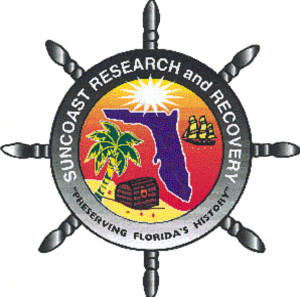 Wait-Call Now!"
Tom…727 415 7968
Mike…425 503 8419
Stan…727 421 9293
SRARC Web Site
The Suncoast Research and Recovery Club Ring Finders Recoveries
One Response to "Valentines Day Wedding Ring Lost, Found and Returned on Siesta Key Beach, Florida"