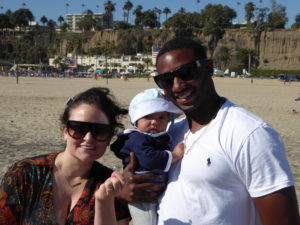 I got a call from Chantal today hoping I could help her find her engagement ring at the beach. I was able to go, but I knew that on a weekend, the day before 4th of July, parking would be horrendous. I told her I would be on my way. I was right about the parking, and had to park about 1 1/2 miles away, and lug my equipment to where they were; fortunately there was a concrete strand to walk on.
Chantal told me she had taken two rings off to apply sunscreen, and laid them on the towel. Later not remembering the rings Chantal picked up the towel and shook it, and then to her horror remembered the rings. She and her husband Ty searched for the rings, and were able to find one of them, but the continued search proved unfruitful for the other one. That is when they found me on theringfinders.com. I met Ty on the way to the spot, and he informed me that they had just celebrated their 2nd wedding anniversary in April. I checked the area Ty showed me, and decided to start my search where they had found the first ring. I completed each line of the grid working my way back towards where the towel had originally been, when right in that area I got a good clean foil sound in my headphones. I dug once, and looked down to see that I had just missed the ring when I scooped as it was partially showing in the sand. I reached down, then held the ring up for all to see, because the people next to them were waiting and watching as I searched. Ty then broke out in a very loud voice saying, "That's what I'm Talking about!", "Thank God for Social Media!" This was a great recovery, I am glad I was able to be a part of it; smiles all around.
If you lose your ring or other metal item of value, don't buy a metal detector or rent a metal detector, but call one of the members of this directory. Look at the different metal detecting Ring Finder blogs and read their success stories, then call them ASAP, and they will work hard for you to find what you thought might never be found again.
I search, Cabrillo Beach, Hermosa Beach, Huntington Beach, Long Beach, Malibu, Manhattan Beach, Newport Beach, Redondo Beach, Santa Monica, Seal Beach, Torrance Beach, Venice Beach, and all parks, yards, gardens, and ponds (to 5 foot depths) in Orange County and Los Angeles County.