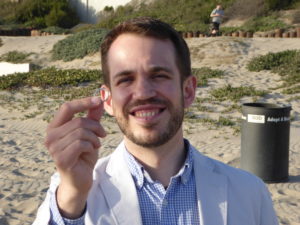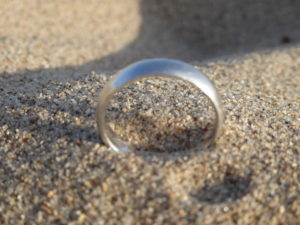 David called me yesterday evening, saying he had lost his wedding ring while playing volleyball at the beach, and wondered if I could help him. He was with a group from work that had traveled from Toronto Canada to participate in team building. I was just sitting in my easy chair, wondering what I was going to have for dinner, and told him I could be there in 30 minutes. I know it is so important to search for lost rings at the beach as soon as possible, because time is the one thing that works against finding them. We agreed on the location, and I was on my way.
David was waiting for me when I arrived, and we got right to the spot. As I asked my questions, he showed me where he was standing, and how he went to hit the ball before the ring flew off. He showed me the area he believed the ring would have gone to, which was when I told him it might surprise him, as to where the ring may have landed. This is because, sometimes the ring does things just the opposite of what we think it will do when it comes off of our fingers. I began the search, one line of the grid, and then went backwards from the direction he indicated to grid the second line, when at the middle of the second line I found his ring. He was surprised at the location, and that the ring was found so quickly. He was glad to have his ring back, and I was happy to have made his day.
If you lose your ring or other metal item of value, don't buy a metal detector or rent a metal detector, but call one of the members of this directory. Look at the different metal detecting Ring Finder blogs and read their success stories, then call them ASAP, and they will work hard for you to find what you thought might never be found again.
I search, Cabrillo Beach, Hermosa Beach, Huntington Beach, Long Beach, Malibu, Manhattan Beach, Newport Beach, Redondo Beach, Santa Monica, Seal Beach, Torrance Beach, Venice Beach, and all parks, yards, gardens, and ponds (to 5 foot depths) in Orange County and Los Angeles County.