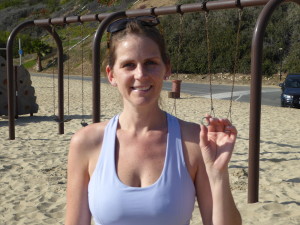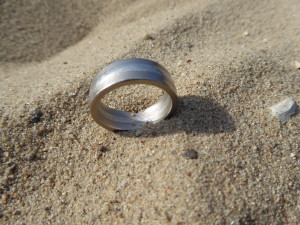 Jamie called me yesterday morning to tell me that her husband had lost his wedding ring, and was wondering if I would be available to help find it. I did have a previously scheduled appointment in the morning, and asked her about the loss, and where it happened. She explained that it was a private beach, and had happened the previous day. I knew the beach, and figured there would be no other metal detectorists, and or county beach cleaners going through the area. We agreed to meet after I was through with my appointment.
When we got to the area of the loss Jamie showed me the spot where her husband was pushing the children on the swings, when his ring caught on something, and flipped off of his finger. They had searched with all available help but having no luck. I began my search looking in the obvious direction that I believed the ring would have been sent, being pulled off of his finger. I searched the area very carefully with no recovery, only some nickles, dimes, and pennies. I then went in the opposite direction, which was behind where he was standing, and got a good sound in my headphones. I scooped once, and had a nice unique looking ring in the bottom of the scoop. I put it in my hand and walked over to Jamie to say that I had not asked her what the ring looked like. After doing so, I opened my hand, and asked if it looked like this. She was very happy, and immediately informed her husband, who I am sure was also very happy. It was another good feeling day for them, for me, and for The Ring Finders.
If you lose your ring or other metal item of value, don't buy a metal detector or rent a metal detector, but call one of the members of this directory. Look at the different metal detecting Ring Finder blogs and read their success stories, then call them ASAP, and they will work hard for you to find what you thought might never be found again.
I search, Cabrillo Beach, Hermosa Beach, Huntington Beach, Long Beach, Malibu, Manhattan Beach, Newport Beach, Redondo Beach, Santa Monica, Seal Beach, Torrance Beach, Venice Beach, and all parks, yards, gardens, and ponds (to 5 foot depths) in Orange County and Los Angeles County.