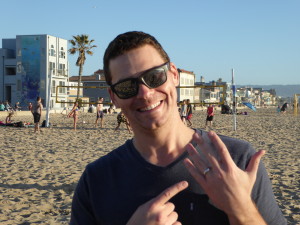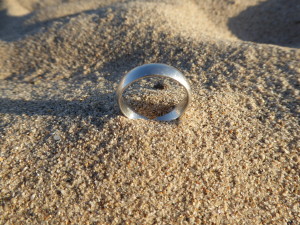 I received a call from James while visiting relatives about 30 miles from my house asking if I could help find his lost wedding band. He was playing volley ball, and was going for a hit on the ball when his ring flew off. I told him it would take a little longer than I would normally have taken to get there, if he was willing to wait, and he agreed to wait. I have been retired for a while, and my wife has told me that I went from a 9 to 5 schedule to having doctor's hours, meaning now that I have chosen to be a ring finder, I am on call at all hours of the day. We said good by to our relatives and I made haste to get to James to find his ring.
When I got to the area and found James, he was waiting at the court with a friend. As he was explaining what had happened, I began getting ready for the search. The main thing that James did right, is to call someone from The Ring Finders immediately after the loss. This allows the person to have the best recollection of the loss, and to not have any other factor to work against the finding of the lost item; as I always point out to those I search for, time is the enemy regarding lost items. He showed me the area where he believed the ring was lost, and I began my search. I went about 10 feet when I heard that sweet sound of precious metal. I dug once, and there in the bottom of my scoop was a nice platinum ring, James' ring. When I reached in and removed it he was amazed, and relieved I had found it so quickly, but in reality a lot of the finding was helped because of his promptness in calling me out, and staying on the scene. I was sure happy to see his smiling face when I handed him his ring today, it made my day.
If you lose your ring or other metal item of value, don't buy a metal detector or rent a metal detector, but call one of the members of this directory. Look at the different metal detecting Ring Finder blogs and read their success stories, then call them ASAP, and they will work hard for you to find what you thought might never be found again.
I search, Cabrillo Beach, Hermosa Beach, Huntington Beach, Long Beach, Malibu, Manhattan Beach, Newport Beach, Redondo Beach, Santa Monica, Seal Beach, Torrance Beach, Venice Beach, and all parks, yards, gardens, and ponds (to 5 foot depths) in Orange County and Los Angeles County.