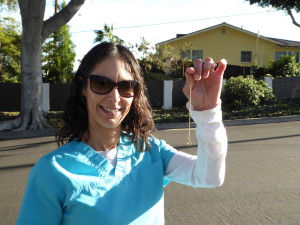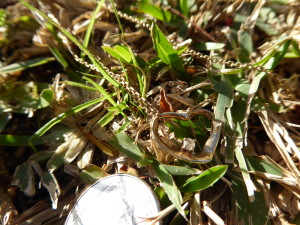 Renee called me today to ask if I would be able to help her find a necklace and pendant with small diamond that she lost in the ivy where she had been walking. I told her that I was available, but she had to wait until she was done at work, which wasn't going to be long. We arranged to meet at a pizza restaurant near the location, and then I would follow her over to the search area. She had remembered the pendant to be about the size of a nickle, which made me feel good about the search, because I knew the chain would be a bear to find, if my detector would hear it at all, but a nickle sized pendant should not be too bad a search.
When we got to the location, she then told me it had missing for two weeks, and then showed me the area (which is behind her in the photo above).  When I walked over to the ivy, I could see that it had been recently trimmed, within a day or two, so I was feeling a bit like it might be gone, but I wanted to do a thorough search, so I got right to work. I was finding everything, bottle caps, screw caps, cans, bottles, foil, ketchup pouches, etc. I found everything but what I was looking for. I had my best detector, but when I had gone over the whole area, I decided to switch to another detector, knowing its ability to find small gold (hoping it would find the chain). I then began to find more stuff in the area I had already cleaned out, getting more good signals, and more foil. My pin pointer was getting a workout as well. I then got another good signal in the headphones, put in the pin pointer and got nothing. I passed the coil over again, got the good signal, put the pin pointer in again; nothing. I then laid the detector down, and reached into the debris, and handful by handful passed it in front of my coil. When I heard the good sound in my headphones again I started going through what was in my hand when I saw a very fine chain. As I lifted it up, I found the very small heart shaped pendant, which I have next to dime in the picture to show scale, it was smaller than a nickle, and fine in thickness. I lifted it up, and began walking across the street to show Renee who was sitting in her car, because it was pretty cold. She jumped out to see, and a great big smile appeared. I am glad to have made her day today, and happy to have had the right tool for the job.
If you lose your ring or other metal item of value, don't buy a metal detector or rent a metal detector, but call one of the members of this directory. Look at the different metal detecting Ring Finder blogs and read their success stories, then call them ASAP, and they will work hard for you to find what you thought might never be found again.
I search, Cabrillo Beach, Hermosa Beach, Huntington Beach, Long Beach, Malibu, Manhattan Beach, Newport Beach, Redondo Beach, Santa Monica, Seal Beach, Torrance Beach, Venice Beach, and all parks, yards, gardens, and ponds (to 5 foot depths) in Orange County and Los Angeles County.