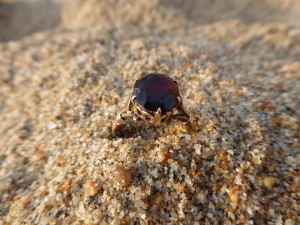 I received a call from Elizabeth asking if I could help her find her ring that got lost in the sand at the beach today. She had taken it off and put it on her towel in order to apply sunscreen. She then got up to shake the sand from the towel, and realized the ring was still on it; she was heartsick. I told her I was on my way, knowing that it is imperative to get on a beach loss as soon as possible, so as not to allow other mitigating factors to make it harder to find; time is almost always the enemy in a ring loss.
When I got to the location, she showed me the area the loss happened, and told me how she and her friends, as well as other people in the area searched for the ring for over an hour to no avail. We moved all of their belongings in order for me to search without any false readings. I told her that it was probably going to surprise her as to where I find it, because I know that rings find a way to fly further than a person thinks they will. I began my search, and went over the area the towel had been in, and went to the place she had shaken out, both silent. I then started moving out away from the location when I heard what I was looking for. I scooped once, looked down and saw the edge of the ring on the side of the hole. I reached down, and picked it up to show Elizabeth who was then overcome with emotion, and so happy that I had found her ring. She explained that it was her grandmother's ring that was given as a gift by her grandfather before her grandparents were even married. Her grandparents had since passed away, and her mother had given her this ring, to have their memory close to her all the time. Therefore to lose the ring was to lose a great portion of her precious memories. What a great day, to be able to hand Elizabeth back something she was beginning to think was lost for good, and to be able to see that great big smile; what a great day!
If you lose your ring or other metal item of value, don't buy a metal detector or rent a metal detector, but call one of the members of this directory. Look at the different metal detecting Ring Finder blogs and read their success stories, then call them ASAP, and they will work hard for you to find what you thought might never be found again.
I search, Cabrillo Beach, Hermosa Beach, Huntington Beach, Long Beach, Malibu, Manhattan Beach, Newport Beach, Redondo Beach, Santa Monica, Seal Beach, Torrance Beach, Venice Beach, and all parks, yards, gardens, and ponds (to 5 foot depths) in Orange County and Los Angeles County.
3 Responses to "Family Heirloom Gold Ring Lost at Huntington Beach, CA…Found."