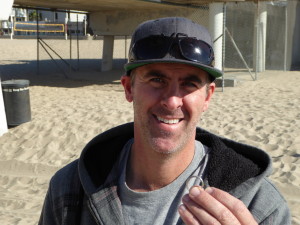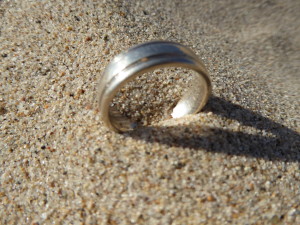 Mike called me this morning about his wedding ring he lost while pushing his children down a sand berm at the local beach yesterday. I told him I would be there in about an hour. When I got to the spot Mike met me, and showed me the area they were playing. You could still see the marks made by the sled they were using, so it made finding the location very easy. You could see though how exasperating it would be to try to find a ring on such an incline because of the way the sand moved as one climbed, or tried to dig on it.
I began at the bottom of the hill, and worked my way up. Originally Mike thought it might have been about half way down, or towards the  bottom, as that is when he noticed it missing. I received some signals in that area, and marked them, but they were not what I was wanting to hear, so I kept moving up the berm. I got near the top, when I heard a good signal about 3 feet off to the right of where they were sliding. I dug, and had Mike's ring in the bottom of my scoop, turned and showed him. He was very happy, and thankful to have it returned. It was a pleasure to be able to make his day, and continue the story of his ring; the ONE he received from his wife on the day they were wed.
If you lose your ring or other metal item of value, don't buy a metal detector or rent a metal detector, but call one of the members of this directory. Look at the different metal detecting Ring Finder blogs and read their success stories, then call them ASAP, and they will work hard for you to find what you thought might never be found again.
I search, Cabrillo Beach, Hermosa Beach, Huntington Beach, Long Beach, Malibu, Manhattan Beach, Newport Beach, Redondo Beach, Santa Monica, Seal Beach, Torrance Beach, Venice Beach, and all parks, yards, gardens, and ponds (to 5 foot depths) in Orange County and Los Angeles County.