Brian Rudolph, Lost Item Recovery Specialist (Land, Water, Sand, Snow, Leaves, Houses & Vehicles) Will Find Your Lost Keepsake! Call ASAP (301) 466-8644!
I received a call from a young lady named Jenna who was desperately needing help with the recovery of her husband's lost wedding band that was made out of a metal alloy called tantalum. More people are purchasing rings made out of this unique metal and I was excited that this would be my first search for this particular type of ring that meant so much to my clients.
The young lady went on to share that four days prior, she and her husband had just gotten home from picking up their car from the dealership. As soon as they got out of their cars, a fun snowball fight ensued. Both of them took their positions near the sidewalk (close to the parking lot curb) and on their townhouse property. There was a bit of movement around the snowy area while they were playing in the fun "white stuff", gathering up their arsenal and throwing the hard packed ice bullets in every direction.
After the couple called a truce and headed inside, sometime later on Jenna's husband (Josh) realized that his handsome tantalum wedding ring was no longer on his finger. They had been married for less than a year and this ring meant the world to the young man. Once the couple looked around the house for the priceless piece of jewelry the two of them returned back outside that evening to search in the car, all over the snow covered sidewalk, front lawn and side area of their end unit. Sadly, all of their searching led to no avail. There was no ring to be found.
At some point while the emotionally depleted husband and wife sat inside to think about what to do next, they finally came up with an idea to search the internet for some type of solution. They typed in Google: "how to find a lost tantalum ring". An article popped up that had been written by a member of THE RING FINDERS – the elite international directory of metal detecting specialists who find rings for people every day! The couple found their best solution to their problem! Immediately I got the call from Jenna asking for my assistance. Within a short while of going over all of the details of the ring's disappearance, I scheduled a trip up to Baltimore, Maryland the very next day.
It was Valentine's Day morning when I arrived at the couple's house. A perfect wintry "love holiday" to recover a lost "symbol of love" for Josh and Jenna! I was told by the couple that this was their first Valentine's day together as a married couple and it meant everything to them to get the ring back on Josh's finger to celebrate their relationship on that particular holiday.
Immediately upon greeting the couple, the newlyweds showed me where they were standing and moving about when they had their outdoor fun several days earlier. The two took me over to the neighbor's fence that was adjacent to their townhouse where they played with the neighbor's dogs on that same snowy afternoon. They thought that maybe the ring slipped off of Josh's finger while he was petting the animals. The last spot that they oriented me towards was a location near the parking lot where there was just a small patch of grass between the curb and the sidewalk. Other than that place, there were really no other places that Josh had been around.
Just before going to my car to get all of my gear out to begin the search, I asked the couple if they would agree with me in a word of prayer asking God for His wisdom in helping me successfully recover this very special "circle of love" for Josh. The two were very happy to pray with me and then shortly afterwards I began my "investigation"!
My first search location to metal detect happened to be all of the areas near the sidewalk (on and near the snow covered concrete). When I found nothing of importance there, I scanned over the entire lawn. I picked up a few curious signals but nothing worth notating in this article. I then detected over by a utility box where Josh said he had assembled some of his arsenal and also where he took cover behind the unit. Unfortunately, this was a difficult spot to detect because there was too much electrical interference coming from the utility junction recepticle. In order to make certain that the special piece of tanalum was not close to the large section of metal, I had to push all of the snow away from the box and then detect all of the newly gathered mounds of "white ice". Everything checked out clear of any jewelry. It was time to move on to the next area to search.
Josh had told me that he did walk along the side of the townhouse and threw a couple of snowballs from that location. So, I used my machine to scan all along that area and still there was no ring to be found. By this point I was about an hour into the project and I wasn't about to give up. I still had a couple of more places to check out. The neighbor's yard was one of them.
Knowing that all of my other search sections were turning up nothing, I was so hopeful that I would find the ring buried in the snow just on the other side of their fence. I was thinking that there were two possibilities as to how the band could have ended up on the adjacent property: One, when Josh threw a snowball, the ring flew off and traveled behind him into the neighbor's yard. Or two, because Josh had been playing with the neighbor's canines that day when his ring disappeared from his hand, there was a good chance that the jewel dropped to the snow right near the fence or maybe it landed much farther away from where he was standing when perhaps throwing a stick or something. I decided to grid search all of that backyard area just to make sure that I didn't miss a single inch. When all was said and done, there was absolutely no sign of the sentimental keepsake that Josh and Jenna hoped to recover.
It was about this time in the search that Josh was getting nervous that perhaps the band was maybe lost forever. Where could it have ended up? That was the question he started to turn over in his mind repeatedly. He was thinking that perhaps he lost the ring in his vehicle or possibly in the dealership parking lot earlier that same day when they were picking up the vehicle that had been in for service. I encouraged my client to hang in there and let me check and recheck every likely place that the tantalum band could have fallen into the snow. As soon as Josh heard my words of added hope, he returned inside once more while I detected the final untouched spot – the line of bushes in front of the house.
This particular area that I was about to search was saved for last just in case I did not find the ring anywhere else. The reason for this was because this search spot was the most unlikely place where the tantalum keepsake could have ended up. Josh was firing snowballs almost on a 180° angle in relationship to where the bushes were located in front of the house. He was more to the side of the property and therefore it would have been nearly impossible for the ring to fly off of his left hand and travel on a 180 degree angle towards the bushes that were in front of the house. Even though I have experienced some crazy scenarios where the item was found in the most unlikely of places, I really didn't think this particular area would show forth the precious metal. Yet, it was my very final place to detect before having to start all over again and recheck all of the places that I had already scanned over – so I had nothing to lose in searching for the ring in that region.
I brought my equipment over to the hedges and began detecting under and around each of the bushes one at a time. It was not an easy situation because there were multiple obstacles that made detecting extremely difficult. One such issue was regarding electrical interference coming from the home. Another problem that I had to overcome was detecting over and around some sort of lighting system that was buried in the ground. And finally, on top of the earth but below the snow I identified solar light towers that were placed in the dirt throughout that area near the front walkway. All of these parts and pieces created metal "masking" and great confusion for my detector. I had to carefully and methodically search that complicated section of the property with a small coil at the end of my detector shaft and try to interpret a tantalum signal from all of the rest of the non-ferrous metal that I was encountering. Curiously at first I was not able to find the missing ring. I moved over to the other side of the walkway and began to detecting some more bushes just to see if maybe the ring traveled even farther than where I thought was nearly impossible to begin with. Still nothing turned up.
The situation began to look very grim. I felt that I had scanned every square inch of property and it appeared that I was going to have to start all over again and see if maybe I missed the ring out there somewhere. I was thinking that perhaps the ring was still hiding over by the electrical box where I had been detecting much earlier. But before I chose to re-scan the property once more, I decided to metal detect a little bit more around the back of the bushes closest to the concrete steps leading to the front door of the house. I thought that maybe perhaps the excess metal and electrical interference got the best of me and that I should recheck that area under some of the bushes one more time. Well, I am excited to share that moments following the start of yet another attempt to detect the snow covered real estate, I picked up a very promising signal coming from under the snow and it was definitely isolated from any of the other metal close by to this particular metal object. It also appeared to be a smaller piece of metal rather than larger ones that I was picking up in various places around the bushes. I knelt down onto the snow and placed my pinpointer beneath the ice to "zero in" on exactly where this object was buried. Once I cleared some of the snow out of the way, there it was, Josh's most beloved material possession – his lost handsome tantalum wedding band! I found it at last! That's where it was all of that time, right there near the entrance to the house but in the flower bed where the bushes were located! Somehow the ring flew off Josh's finger at almost a 180° angle and ended up under one of the bushes closest to the front steps! I could not have been happier for this couple, especially knowing that I was able to recover the lost "circle of love" on Valentine's Day!
What a wonderful morning that was in surprising Josh and Jenna with my most awesome find out there in the snow! They truly couldn't believe that I had found the ring, especially after all of the time that had passed by with no results! Also, they were shocked when I shared the location where I discovered their cherished piece of tantalum! The two could not have been more grateful!
Before I left Josh and Jenna's Baltimore, Maryland residence, the three of us thanked the Lord for helping me with this search and to have been able to successfully recover and return this most precious sentimental keepsake to its rightful owner! This story could not have had a better ending and the ring could not have been found on a more significant "love holiday" than the one that we were all celebrating together that morning outside in the snow…yes that's right…Valentine's Day!
SUBSCRIBE TO BRIAN'S YOUTUBE CHANNEL TO VIEW THIS SEARCH VIDEO!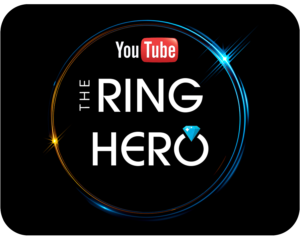 To receive a NOTIFICATION letting you know when the video is uploaded to YOUTUBE: go to YOUTUBE by CLICKING THE LINK BELOW or OPEN your YOUTUBE APP on your device, go to the SEARCH BAR, type: THE RING HERO, click SUBSCRIBE and lastly, CLICK ON THE "BELL" to receive NOTIFICATIONS when this latest search video is available to view! 
BRIAN'S YOUTUBE CHANNEL LINK: 
https://www.youtube.com/channel/UCmcn09QqWhHrj-7SGqlUBJQ
CALL BRIAN RUDOLPH WITH THE RING FINDERS AT (301) 466-8644!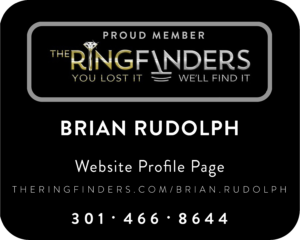 VISIT THE RING FINDER'S WEBSITE TO READ MORE OF BRIAN'S SUCCESSFUL SEARCH STORIES at:
TheRingFinders.com/Brian.Rudolph/
HE WILL RETURN TO YOU WHAT HAS BEEN LOST!
VISIT BRIAN'S PERSONAL WEBSITE FOR ADDITIONAL STORIES AND INFORMATION AT: www.TheRingHero.net