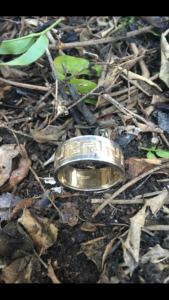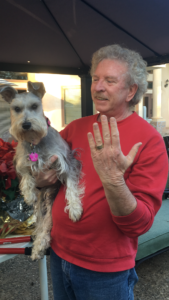 Theringfinders metal detecting service helped find and Return a lost Gold ring in Vista,ca.
January 4th,2017  I received a call from Jim who had lost his gold ring in his backyard while gardening and tossing snails from the plants when..He felt his ring fly away flashing suddenly & disappearing into the abysal hill.
Jim had vigorously searched through the bushy hill area for a day or two with No luck & anvil while his wedding ring was hiding…
Fortunately he was able to find my contact number on Theringfinders metal detecting service Web page. 👍
After Arriving 10 min early plus excited about the hunt and well equipped with the Garrett Advanced Pulse Induction metal detector on a sniper coil ready to go…
I then began scanning and ruling out where it's Not!  With patients & Process of illumination of where it's NOT and where it is??  I had found His Celtic Gold ring inches from an iron fence,Iron Rebar below with sodium lights giving bad and false signals!
Amazing and shocking this has turned out!
Jim had First saw his Ring when I heard it  swinging my detector down the slope. What an Awesome story to share and glad you took the time hear it.
What a Cool guy to meet as well.We are both Mopar guys,We Talked muscle cars longer than the recovery. North county locals✌️
I use a Multi-Tool Detector👍 Call Me A.S.AP