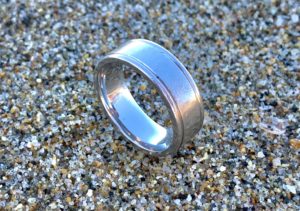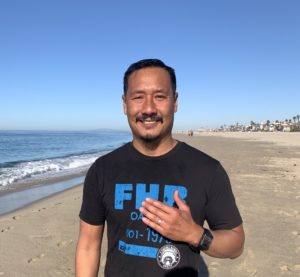 The RingFinders Service helps man to find his cherished wedding ring … available to help you now .. 949-500-2136
*** Viet had been surfing at Newport Beach, CA. Just before going into the water he realized he still had his platinum wedding ring on. It was too far back to his car, so Viet put his wedding ring in a pocket of his backpack.
That evening when he got home Viet discovered his ring missing from the back pack. He and his wife drove more that 30 miles back to Newport Beach searching that night in the dry sand with no luck. He returned at 6am the next morning using a loaner metal detector that the lifeguards gave him. 
After two hours he was totally frustrated and he took a few minutes to google search ideas on how to find a ring with a metal detector. That was how he found my information on TheRingFinders metal detecting directory. I live very close to where the loss occurred, so I was on the beach by 9am. Viet was totally frustrated and tired from the many hours of searching. He did feel that he was searching the wrong areas and suggested I try a spot on the beach where he recognized a piece of ribbon in the sand. 
I started my grid search in that location while Viet went to his car for some water. Before he got 30 yards away from me I got a strong signal in my headphones. After retrieving the target I could see the platinum wedding ring in my scoop. I got his attention before he got to his car. When he saw his ring, couldn't hold back his emotions, he choked up and took a few deep breaths. The sentimental meaning of his wedding ring and the frustration of so many hours of searching for the ring was overwhelming. Now the relief of having his ring back was real after coming so close to thinking it was lost forever.
I wonder how many people walk away from sentimental keepsakes that could have been found if they only knew a service like TheRingFinders exists. Many people find our service by accident searching through the internet. We have members internationally in over 400 cities.