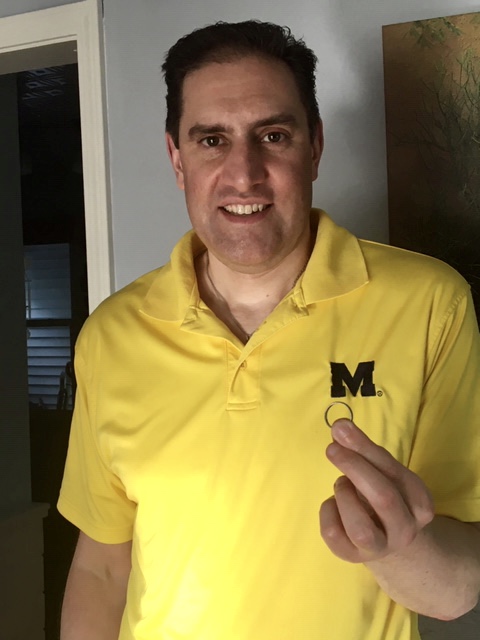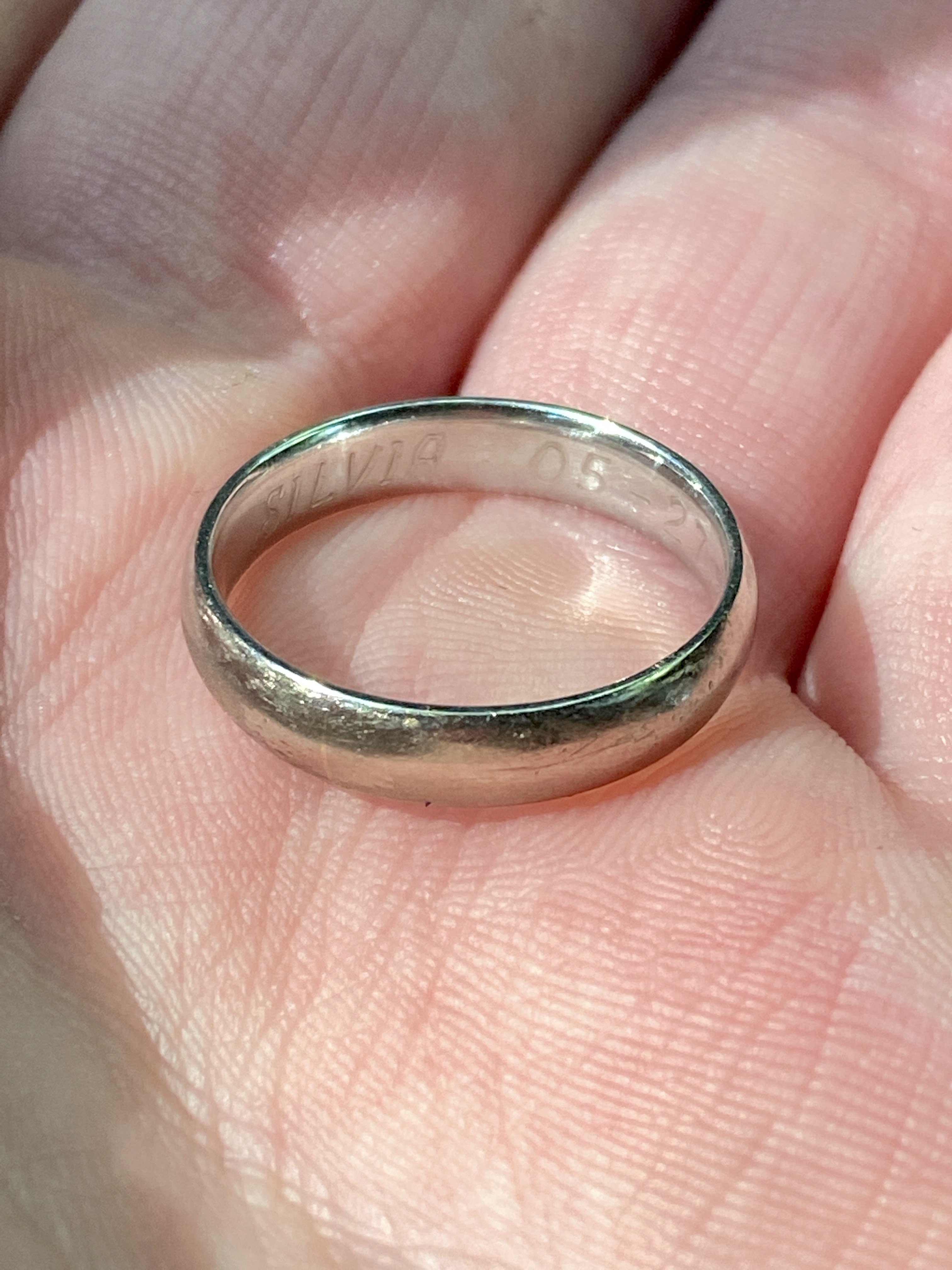 Got a call from David, who had lost his white gold wedding ring while out at a Lake Michigan beach, near Union Pier Michigan. He wasn't certain when the ring had fallen off his finger, but knew it was either up on the dry sand or out in the water, possibly deeper than head deep, within a certain "width" area.
Lake Michigan quickly claims many rings and can be quite uncooperative or merciless due to prevailing winds/waves. The wind forecast looked promising for a morning search the next day. Upon getting to a nearby parking area that next morning, I could hear an unwelcome roar of the surf.
We met at a certain stairway, walked to the beach and I could see the 3-4 foot high-freqnency whitecaps that make searching in the surf nearly impossible. The water temp had dropped from cold water being moved in. Temp from mid 70's down to what felt like upper 50's. I searched the dry sand area, then near the water line with no luck. Started in the frigid water, working the shallowest parts, getting battered by the waves and powerful multi-directional currents, as if the lake wanted to take me. With numb legs and that terrible feeling of failure, I accepted that the big lake wasn't going to let me to find this ring today. I had to call the search and break the bad news to David and Silvia, who were standing on the beach watching with hopes of good news. They had to check out and leave for home again this same morning. I told them that I'd be back when the conditions were better so I could try searching more.
I returned to try again when the wind forecast looked good, but as usual with Lake Michigan, it wasn't as forecasted and was still wavy enough to interfere with searching, no luck after trying a couple hours before work.
Fast forward a few more wavy days, there was finally a few hour window of nearly flat calm in the forecast and I took advantage of it. A few days of heavy wave action, wild currents and mass sand movement were not bringing positive thoughts for a recovery. I had a couple hours to search and had until 1130, which was when I had to stop and leave for work.
I searched the dry sand again, then the surf zone and found a few dimes, a nickel, a quarter, a couple pennies and some junk pieces of metal or tin. Moved out deeper, no promising signals of any kind. I had taken into consideration the wave directions, the current and searched quite a distance beyond where David said he'd been. For awhile, I was even using my scoop and detector like "arm stilts", so I could detect deeper than head deep (I'm 6'3″), nothing but junk targets. . 1130 came, it was time leave for work, no ring, that bad feeling of failure again set in.
Started back towards shore, I figured I'd go even further South of the search area to keep swinging the detector until back on the beach. About halfway to shore, chest deep, I got a potential lone signal of gold or a nickel. Scooped it up and there it was, a white gold men's size wedding band. It had inscriptions in it and I confirmed with David that it was indeed his lost ring.