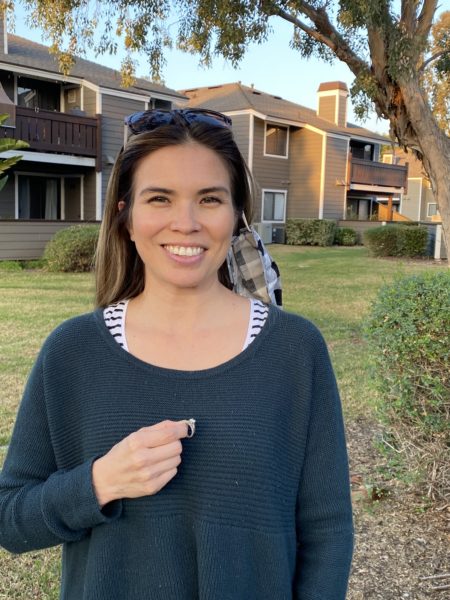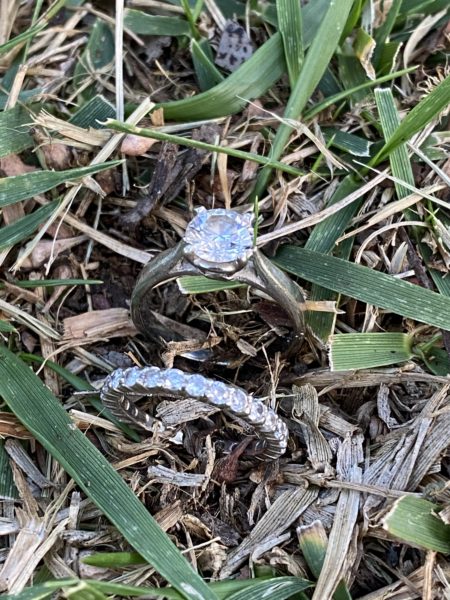 "

I FIND JEWELRY"  call Stan the Metal Detector Man if you need  help ..  949-500-2136
*** Adriana had lost both her diamond gold wedding ring set. After three days of searching many different possible areas she had been, she called me for help. 
We discussed the many places where she had been the day of the loss. The family had driven out of town to visit friends, she had made a trip to a local grocery store, she also walked across the lawn to a community mail box (150 yards.) and lastly she had done many chores inside the house. A lot of nooks and crannies for rings to hide. Adrianna and her husband, Jon desperately searched for days without success. She told me they had given up hope but wanted me to check the grass before completely letting go.
After hearing all the potential places the loss occurred, I could only suggest that with my equipment I could definitely eliminate the grassy area that she walked to pick up the mail and play area where she was with her children. There could be places to search after I get to the location.
We couldn't meet up till the next day. Jon was there to meet me and Adriana would show up to give me person to person description of what she had done the day of the loss.
Jon showed me the path across the grass to mail box. This would keep me busy until Adriana got home. I did the whole grass area even though she probably walked a narrow pathway. After 15 minutes I got a surface signal and looking down I could see the diamond wedding ring. About 18" over there was the diamond engagement ring. I left them there.
When I walked up to the door Adriana stepped out to meet me. I asked her to show me where she had walked. As she was showing me, I said, I think you just stepped on something. When she looked down she saw the first ring. She was shocked and told me they had gone over that area a couple times, in the daylight and at night with a flashlight.
She let Jon know we had the rings and he met us outside to make a video recording of the recovery to share with his friends.
Another great recovery because it almost seemed impossible considering all the places she had been when she lost the rings.   I run out of words to explain how happy they were..
"I WILL TRY ANYWHERE"… Finding your valuables is important to me .. Call now !  Stan the Metal Detector Man …  949-500-2136