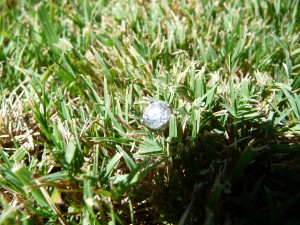 I received a call today from Demi regarding a Diamond stud earring lost in the grass at her house. I knew this would be a challenge because there is so little metal, in a very limited configuration, in a stud earring of any kind, especially one with a jewel that spreads out the metal into little tabs, which makes it very difficult to find. I told her I would be there, and felt up to the challenge.
When I got to their house her husband Richard showed me to the area, and explained what had happened, which I found a bit amusing. They have some "barnyard animals", and Demi had been on the lawn with some of their goats, one of which was nuzzling the side of her head. She thought something had come off of the goat on to her blouse which caused her to brush it off. It wasn't until they were on their way to put the goats away when she noticed the earring missing.
Well I got to work searching very slow and cautiously, and in the process found the back to the earring. It was real hot out there, and Richard was great to keep me hydrated with plenty of water. After about an hour and a half he invited me over to the porch to have a lunch with him that included more water, and some very fresh watermelon. After the lunch I went back to work refreshed, and searched the other areas he showed me with no success. I decided to go back to the area where the back was found and cross grid. After about 15 to 20 minutes, I found the earring. I walked over to where Demi was talking to her friend, held it up, and asked, "did it look like this?" When she saw it, the emotion on her face was all I needed to see, it was pure joy, and relief. Richard explained that he had given these earrings to Demi for their anniversary, so I realized why there was so much emotion, they were truly a precious item. Patience and persistence paid off in this search, and it helped a lot that Demi and Richard put me in the right area, otherwise the earring may have been lost for good. What wonderful smiles, what a happy couple, what a great day! Referred to me by Stan Ross fellow Ring Finder.
If you lose your ring or other metal item of value, call as soon as possible. I will work hard to help you find what you thought might never be found again. I search,  Beverly Hills, Hermosa Beach, Huntington Beach, Long Beach, Los Angeles, Malibu, Manhattan Beach, Newport Beach, Rancho Palos Verdes, Redondo Beach, Santa Monica, Seal Beach, Simi Valley, Thousand Oaks, Torrance, Venice Beach, and all parks, yards, gardens, and ponds (to 5 foot depths) in all of Orange County, all of Los Angeles County, and Ventura County.