Christina McCree – Ring Finder for northern Alabama and southern/middle Tennessee…call or text ASAP, anytime 24/7…610-504-6135
On Thursday night (September 8th, 2022), I received a text message from Austin stating that his fiancé, Shannon, had lost her engagement ring earlier that day while she was outside of their home.  They had spent 4 hours searching with a cheap metal detector, but no luck.  They also tried looking in the dark with a flashlight.  I told Austin I'd be more than happy to help, and that I could come out the next day as soon as I got off from work.
I met Austin and Shannon at their home in Columbia, Tennessee on Friday around 4:30pm.  They explained that they checked their security cameras and were able to pinpoint when Shannon last had her ring on and when she first noticed it missing.  Shannon had gone over to the chicken coop, grabbed a bad egg, and threw it over their wire fence into the field.  She shook her hand because some yolk had gotten on it.  Next, she went and pulled some weeds from the garden, but she said she had noticed her ring was missing before she did that.
I began my search by where Shannon was standing when she threw the egg.  Next, I hopped the fence and began a grid search in the field.  This was challenging at times due to the height of the grass and weeds, so I had to press my detector down in certain spots.  When I felt like I had covered a decent area, I hopped back over the fence to check the bedding where the chicken egg was.  Still no ring.  Austin then showed me the video of the egg throw and I noticed that Shannon threw sideways towards the right side.  I hopped back over the fence and expanded my grid towards the right.  I continued searching until I felt like I had covered the area quite a ways.
We decided that I could come back out in the fall and recheck the field better when the grass was cut.  I told them that I wanted to check the garden in case Shannon had actually noticed the ring was missing after (not before) she had weeded.  Austin marked the path she had walked with my cones.  I walked down to the garden and searched one side of her path.  I then searched around the planter she was working in.  The grass was about 2-3 inches tall.  I just finished my lap around the planter when I received a solid tone that showed at a shallow depth on my Minelab Equinox 800.  This was the kind of signal that you just know it had to be the ring.  I bent down, parted the grass, and saw that golden circle beaming back up at me!  I looked up at Shannon with a big smile.  She said, "you found it!?"  I replied, "got it!"  Both Shannon and Austin were shocked because Shannon thought she noticed it missing before she pulled the weeds from the garden.  In fact, they didn't even search that area because of that!  I explained that our minds will play tricks on us and can even change how events are played back in our heads.
Shannon and Austin were both so excited and relieved that her beautiful 14K yellow gold engagement ring was back on her finger where it belongs!!!  They were also so happy that they came across The Ring Finders Metal Detecting Service.  Shannon apologized that she had me looking in the wrong spot, but I told her that it was the most likely area and we needed to search that first.  In the end, all that matters to me is that the person gets their ring back no matter how long it takes to find it.  I'm so proud to be a member of this great service; please, tell your friends that it exists!  Looking forward to the next adventure…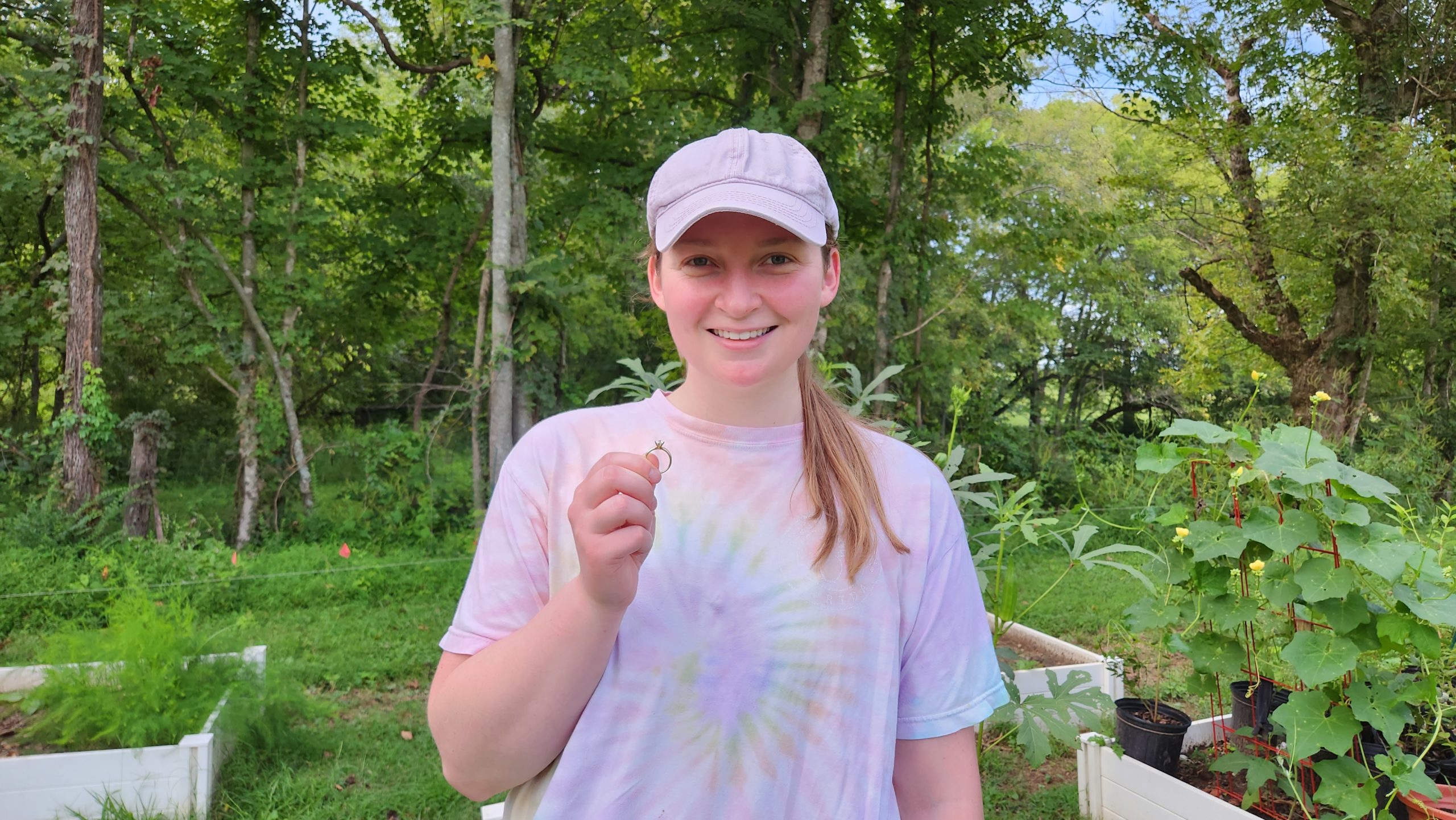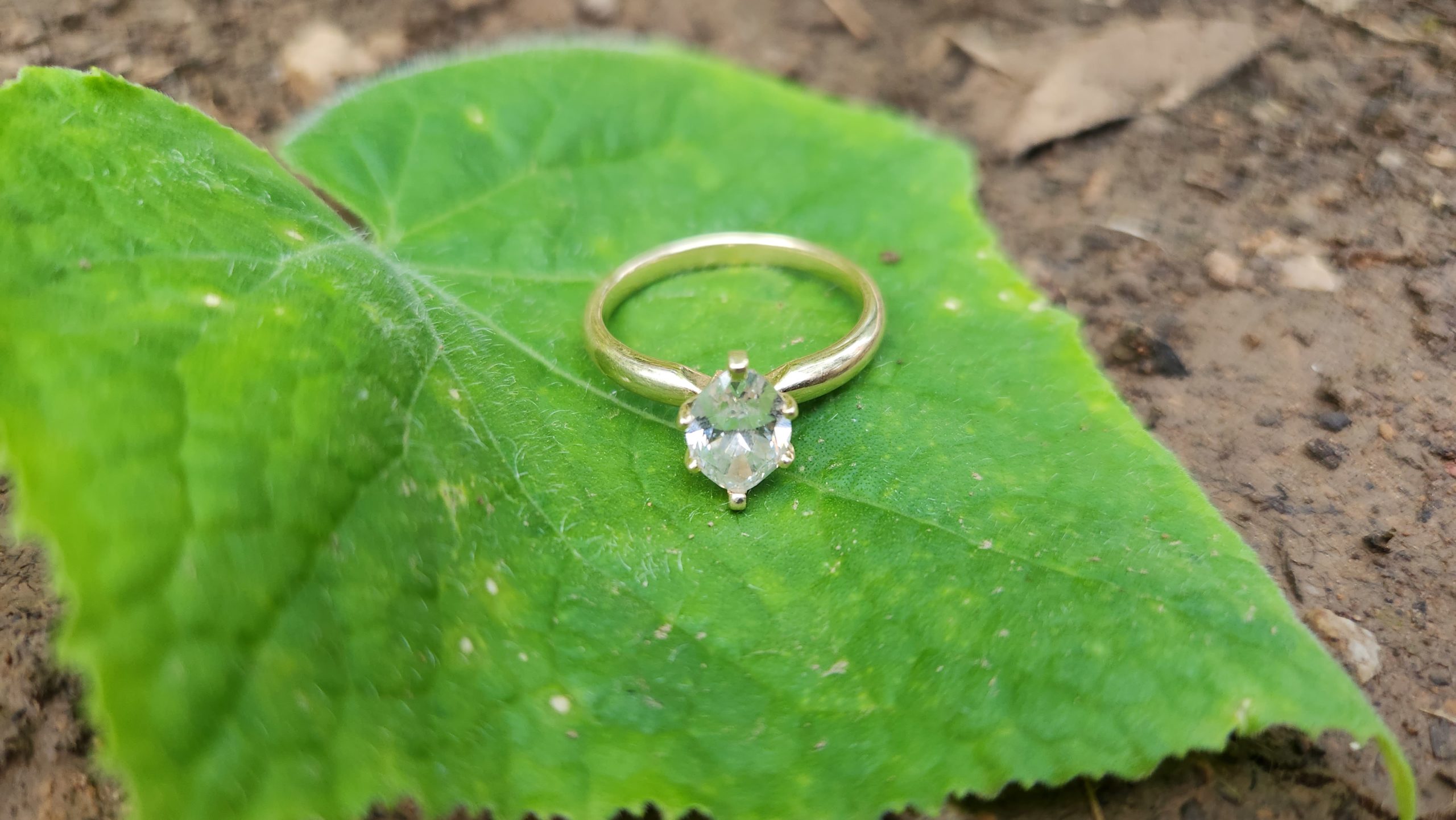 If you or someone you know has lost a ring, jewelry, or other metal item, please contact a member of The Ring Finders.