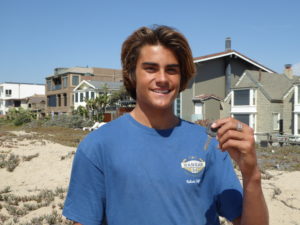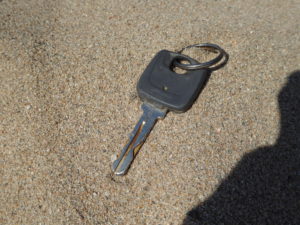 I received a call from Maxim who explained to me that he had lost his car key as he was walking to the water to go surfing about 6:30 in the morning. I got the call about 11:00 AM, and he told me he had been searching for the key all morning. I told him I would be there quickly.
When I got to the location Maxim was waiting for me. I found out that he had lost his only key to his car, so there was really no where for him to go until it was found. He showed me the area where he thought it was lost, and I could see where he had searched by the grid lines in the sand made from his hands and feet dragging in the sand. I set to grid the same area, because he was so sure of where it had dropped, and I knew that sand will move things around when someone does a hand search making an item very hard to find. I did a grid, and then a cross grid; nothing! I proceeded to question more, and decided to grid towards the entrance to the beach. I searched about 10 feet when I had a good hit. I scooped once, nothing in the scoop. I looked at the spot to set the scoop in again when I saw the tip of the key sticking up.
I reached down raised the key, and Maxim could not believe it was where I found it. I told him it happens all the time, people don't always have the perfect recall we would like to have, so we as "Ring Finders" have to ask a lot of discerning questions in order to help probe the memory. Just so happy to see his smile knowing he was going to be able to get back into his groove.
If you lose your ring or other metal item of value, don't buy a metal detector or rent a metal detector, but call one of the members of this directory. Look at the different metal detecting Ring Finder blogs and read their success stories, then call them ASAP, and they will work hard for you to find what you thought might never be found again.
I search, Cabrillo Beach, Hermosa Beach, Huntington Beach, Long Beach, Malibu, Manhattan Beach, Newport Beach, Redondo Beach, Santa Monica, Seal Beach, Torrance Beach, Venice Beach, and all parks, yards, gardens, and ponds (to 5 foot depths) in Orange County and Los Angeles County.