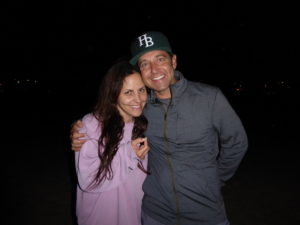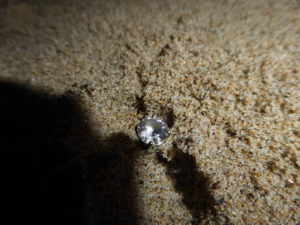 I received an email from Carli last night about 10:15 asking if I could help her find her lost diamond stud earring she lost at the beach in the sand. I have been on enough searches for stud earrings to know that they are one of the most difficult items to find, in fact most detectors won't even pick them up, and I made sure I let her know this upfront. I asked her about the spot of the loss, and she said it was lost on the towel line, which the county mechanically cleans on this beach daily, so I knew that this search was important. Carli was thinking early the next morning, when I told her I would meet her at the beach in 30 minutes, because of the type of search and the fact that there were too many factors that could make finding such a small item harder by the hour. We agreed to meet last night, and I was on my way.
I arrived just after 11:00, and she took me out to the spot. I had told Carli that the closer she could get me to the area would increase the likelihood of a recovery. She told me the earring came off her right ear when she was removing a piece of clothing so she had focused her search in that area earlier in the day. I told her though that I was going to search a wider area, because I have experienced that jewelry does weird things when it comes off. I found a few items such as foil, and a bobby pin, that Carli identified as hers. About 11:30, I was in an area that was to the left of her original position by about 10 feet when I received a good signal. I dug with my plastic trowel, and delicately shook the sand from the curved surface, when something sparkled. Carli's husband said in the darkness with the flashlights that the sparkle caught his eye as well even as he was standing a few feet away. I reached down and then held up the earring Carli had lost. She expressed a considerable amount of excitement, saying "it was like a needle in a haystack", which it truly was. The earrings I later found out had been given to her for a birthday present, what more can be said; the story continues. The attached picture says it all. Glad to be a maker of smiles.
If you lose your ring or other metal item of value, don't buy a metal detector or rent a metal detector, but call one of the members of this directory. Look at the different metal detecting Ring Finder blogs and read their success stories, then call them ASAP, and they will work hard for you to find what you thought might never be found again.
I search, Cabrillo Beach, Hermosa Beach, Huntington Beach, Long Beach, Malibu, Manhattan Beach, Newport Beach, Redondo Beach, Santa Monica, Seal Beach, Torrance Beach, Venice Beach, and all parks, yards, gardens, and ponds (to 5 foot depths) in Orange County and Los Angeles County.
10 Responses to "Diamond Stud Earring Lost at Hermosa Beach, CA…Found."