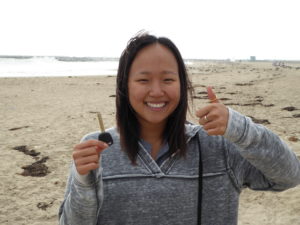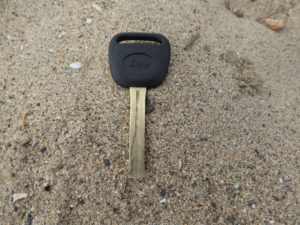 Irene called today saying she had lost her car key at the beach. She knew where it was lost, so I figured I would be able to help her find it. I was able to get to the spot in about 45 minutes, and meet with her.
She showed me the spot, and I began my search. I went completely over the area she showed me finding numerous pieces of metal but not her key. I then asked a couple of more questions to be sure we had the right spot, she was sure so I began another search of the same area, and then found the key. Sometimes it is important to rework an area, because the position of the item being searched for might be turned in a particular way, that it can only be heard when crossed by the coil going a certain direction, another reason to cross grid when you know the area is certain.
Well Irene told me that if I was unable to find her key, it was going to cost her about $400 to replace because of the type key it is. I am glad to have been a help to her, and happily send her on her way; nice smile.
If you lose your ring or other metal item of value, don't buy a metal detector or rent a metal detector, but call one of the members of this directory. Look at the different metal detecting Ring Finder blogs and read their success stories, then call them ASAP, and they will work hard for you to find what you thought might never be found again.
I search, Cabrillo Beach, Hermosa Beach, Huntington Beach, Long Beach, Malibu, Manhattan Beach, Newport Beach, Redondo Beach, Santa Monica, Seal Beach, Torrance Beach, Venice Beach, and all parks, yards, gardens, and ponds (to 5 foot depths) in Orange County and Los Angeles County.