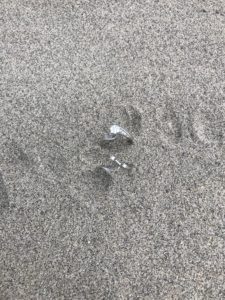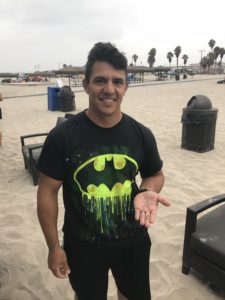 The Ring Finders Metal Detecting Service helped find 2 wedding rings at Camp Del Mar beach. Open Now CALL 760 889 2751
I received a call from Jaycee who asked about the service I can provide to help find his wife's diamond rings lost in the sand on Camp Pendleton. We arranged the best time to meet early at O700 when this particular beach is hardly crowded and occupied this time of day.
Not to mention but this is a bottle cap haven spot with Late night celebrating.
Upon arriving to the scene of the lost rings Jaycee showed me 1 of many private beach area booths & couches,tables, Chairs under a canopy with metal poles staked at 4 corners. We both first moved the couch and chairs as I then began my search. After a few bottle caps with nothing in the center of it I get multiple signals just next to the metal pole legs for the canopy..?
Funny cause the other pole didn't give me those readings or tones. So I used my foot and kicked 3 piles of sand away from that pole.I saw nothing but heard a couple signals in the gold range on my Metal Detector,Then I scooped it up when sure enough it was only 1 of the rings I was called for. He was shocked how fast I found the first ring SO (BOOM) I scooped up the other ring too,Why NOT? !
This was an amazing story as I was able to help out Not just another marine or civilian cause Jaycee told me afterwards that his specialty is using metal detectors to find Bombs/IED'S 💣 ! And those type of detectors primarily pick up Wire/Explosives etc. This search was definitely rewarding to help out a fellow service member. What a way to honor those who protect our Great country 🇺🇸
"Who ya gonna call?"