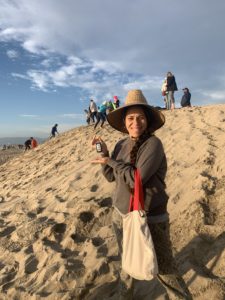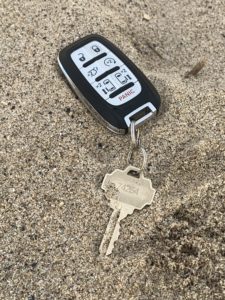 Mobile Metal Detecting Service ready to help you find your valuable..  Call Stan  949-500-2136
… First day of 2020, Naomi and her family were at Venice Beach playing on a 25 foot high sand berm when she realized that her car key fob was lost. After searching for a couple hours without success. She went on line to see about renting or buying a metal detector. She did find TheRingFinders directory that helped her call for help. 
When I talked to Naomi she was confident that the key was in a small area. I told her I would be there within an hour and we had a good chance to find the key fob. Especially if they could be there to meet me. I didn't ask any more questions as it is more important to get on the road. ( one minute is one mile )
When I met Naomi and her husband, we walked to the massive sand hill that they push up in the winter time to protect the beach. Kids like
to take cardboard and plastic to slide down the steep sand. They believed the lost key fob was on the hill or at the bottom where they had set while watching their kids.
I grid searched the top of the hill and went to the bottom dreading the search of the steep incline. On my first pass of the bottom of the hill, "Boom" a  TDI reading of 23 on my Minelab Equinox metal detector. One scoop then inside was the key fob. Naomi's husband couldn't believe that the fob was in a spot he had searched.
A very nice couple that I enjoyed meeting and so happy that we had a successful search. Happy Start to a 2020 New Year.
"I WILL TRY ANYWHERE "  Stan the Metal Detector Man