Brian Rudolph, Lost Item Recovery Specialist (Land, Water, Sand, Snow, Leaves, Cliffs, Houses & Vehicles) Will Find Your Lost Keepsake! Call ASAP (301) 466-8644!
I received a call from Joseph and Robin who were desperately seeking help to assist them in finding Robin's lost yellow gold diamond engagement ring.
The couple (who were avid bicyclists) took a very long adventurous bike trip through Berryville, Virginia. When Robin realized that her very sentimental keepsake was missing from her finger, the couple tried to determine where the ring most likely had come off during their trip. They were not sure if the irreplaceable jewel happened to fall off of Robin's finger while they took a break at one of the rest stops or while they were dining at a restaurant somewhere along one of the legs of their journey.
Joseph eventually connected with me by email and then finally by phone where we discussed all of the possibilities of where Robin's ring could have ended up. Within 24 hours I was on my way to Berryville, Virginia to metal detect the area where the couple had stopped to briefly rest up before continuing along the bike path.
As it turned out, I was not able to find the couple's lost ring over by the rest stop. All of the areas where I searched in the grass had plenty of surface metal that I had picked up with my metal detector, but I found no jewelry during that time of scanning the suspected plot of land.
When I called the couple to give them my update, I told them that I felt confident that Robin's ring most likely was not lost at that particular location. The reason for this is because I believed that nobody would have been able to spot the jewelry in that quality of grass. It was just too thick. My conclusion was that Robin had either lost the ring at the restaurant that they had stopped at along their route or perhaps it never left their house in the first place.
Upon sharing this information with the couple over the phone, both of them thought that the ring must have been lost at the restaurant because Robin remembered wearing the ring when she left their house to go on their trip. I asked them whether or not there were any other rings that Robin was wearing and she said that there was a very special diamond frog ring that she had on but it did not slip off her finger like the engagement ring.
I asked Robin if the frog ring was placed on the inner part of her finger and the engagement ring placed towards the outside portion of her finger. She confidently responded by saying that the frog ring would have been on the outside portion of her finger. This is when my investigative skills got busy. I suggested to the couple that perhaps Robin's special "halo of love" never left the house based on the fact that the frog ring would have protected the engagement ring from falling off her finger (since the frog ring still remained on her hand at the time of the realization that the engagement ring was missing).
Robin just could not buy into my theory and responded by saying that maybe she didn't remember clear enough and that she may have reversed the placement of the two rings when she put them back on her finger before leaving for the bike trip.
I suggested to the couple that before I were to travel many miles to search the grounds of the restaurant where they ate during their trip, they should check inside their house just to make sure that the ring had not been hiding there the whole time.
Even though Joseph and Robin were convinced that the ring had fallen off of Robin's finger sometime during their bike journey, they agreed to check the inside of their place before sending me off to the suspected restaurant site.
The two of them asked for advice as to where they should search first for the missing ring and I gave them a list of places to check based on questions I had asked them as to where Robin had been in the house prior to leaving for the trip.
The very first place that I suggested that the couple should search for the diamond ring happened to be their living room sofa. And I am very happy to share that as it happened to turn out, Robin found her beloved engagement ring buried in the couch! The couple immediately contacted me and shared the amazing news! I could not have been happier for them!
My clients shared that they would have never searched the furniture as they were completely convinced that the engagement ring was lost in a public environment. Robin and Joseph could not imagine how long that irreplaceable piece of jewelry would have remained where it was located had it not been for my assistance and expertise! Hopefully they would have eventually checked their furniture before discarding any of it from their home in the distant future! That declaration from the couple truly made my day and I could not have been more excited to help these two very special people recover something that meant the world to both husband and wife!
SUBSCRIBE TO BRIAN'S YOUTUBE CHANNEL TO VIEW SOME OF HIS SEARCH VIDEOS!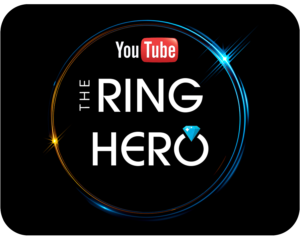 To receive a NOTIFICATION letting you know when videos are uploaded to YOUTUBE: go to YOUTUBE by CLICKING THE LINK BELOW or OPEN your YOUTUBE APP on your device, go to the SEARCH BAR, type: THE RING HERO, click SUBSCRIBE and lastly, CLICK ON THE "BELL" to receive NOTIFICATIONS when this latest search video is available to view! 
BRIAN'S YOUTUBE CHANNEL LINK: 
https://www.youtube.com/channel/UCmcn09QqWhHrj-7SGqlUBJQ
CALL BRIAN RUDOLPH WITH THE RING FINDERS AT (301) 466-8644!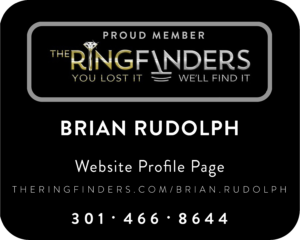 VISIT THE RING FINDER'S WEBSITE TO READ MORE OF BRIAN'S SUCCESSFUL SEARCH STORIES at:
TheRingFinders.com/Brian.Rudolph/
HE WILL RETURN TO YOU WHAT HAS BEEN LOST!
VISIT BRIAN'S BUSINESS WEBSITE FOR ADDITIONAL SERVICES, STORIES AND INFORMATION AT: www.MetalDetectingAdventures.net